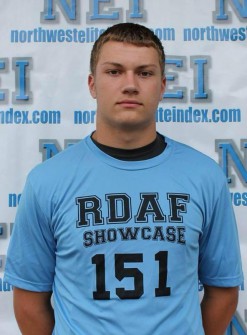 The state semifinals are here and the Bothell Cougars are playing some of their best football in years. Bothell's defense has been especially tough this season, and a big reason why is the play of LB Tyler Wharf ('16).
While the 6-foot-2, 220 pound Wharf is quick to deflect the recognition off to his teammates, there is no denying his part on a Cougar defense allowing less than 10 points per game.
From day one Wharf knew he wanted to be a college football player, but as he got into high school, one play looked like it might derail those dreams.
"The ninth game of my Sophomore year against Woodinville, I suffered a torn ACL along with sprained MCL and torn Meniscus," Wharf told NEI. "It happened on a kickoff right after we ran a kick return back for a touchdown."
Wharf has since become a team captain and All-Kingco linebacker, and watching him play you would never know he eve suffered an injury.
"I had surgery, attended physical therapy for six months," Wharf noted. "I worked the hardest I've ever worked in my entire life and it paid off. I can't tell which leg I injured while running today unless I look for the scars."
Missing so much time has resulted in Wharf seeing a bit of a slow start to his recruiting, but things are beginning to pick up. The senior backer is now hearing from multiple schools across all levels of play, and seeing especially strong interest from Army, Idaho and Montana State.
For now Wharf is focusing on this week's game against Newport. Last week the Cougars took it to a Bellarmine Prep team that had knocked them out of the playoffs three of the last four years.
"As a team we have a ton of confidence after taking down Bellarmine," Wharf says. "It was also one of my favorite moments of the year so far. I have played with most of my teammates for all my life and have been dreaming of playing in the Tacoma Dome for years."
If you are headed down to the Tacoma Dome, you can expect to see a lot of blue and white this Saturday at 7:30 pm. Bothell has one of the best fan bases in the state, and Wharf gave them plenty of credit.
"Playing at a place like Bothell is amazing," Wharf said. "Everyone is so positive and the fanbase is truly incredible. We usually have more fans than the home team if we are the away team and that really helps when we are the away team. We always get support from past cougar Football players.
"Brotherhood and trust is what makes you a Bothell Cougar."
We wish Wharf all the best this week and will be sure to keep you updated as news becomes available.