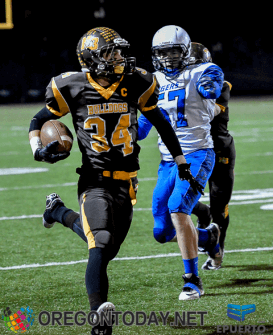 One of the best players in the state of Oregon regardless of classification is Drew Matthews (6-1 190 WR/DB 15′) of North Bend. The 4A Player of the Year favorite will lead the (11-0) Bulldogs into Saturdays state championship versus (11-0) Gladstone.
Matthews has put up video game like numbers over the last three seasons, and will go down as one of the top dual threat athletes in conference history. He has totaled 26 career INT's, while catching 107 passes for 2,625 yards and 33 receiving TD's over the last two years. If we are talking overall numbers he is one of the most impressive kids in the entire western region.
North squeaked out a 41-40 win over an undefeated Mazama squad last weekend in the state semi finals. On the year they are beating opponents by an average of 32 points (49-17), in what looks like the best season in school history. Cam and Luke Lucero have continued their dominance, while Levi Rider and all everything lineman Joe Rutherford earned 1st team all league honors on both sides of the football.
Gladstone could pose problems with their running game and Tri Valley Player of the Year Handsome Smith, as Mazama rushed for 303 yards in the first half last week.
Drew caught 6 passes for 209 yards and 3 TD's in the semi final win. He has dealt with consistent double teams all year so the Gladiator defense won't be doing anything new. On the year he has totaled 22 touchdowns, while catching 62 passes for 1,580 yards. Defensively he has picked off 8 passes, three of which he returned for TD's.
Watch Saturdays game here on the NFHS Network – http://www.nfhsnetwork.com/events/osaa/051f24f2a4 – as we will be calling the state championship at 5PM from Hillsboro Stadium. Congrats to Drew and the entire Bulldog team on one of the most impressive seasons to date.