Click Here for Keun Thompson Highlights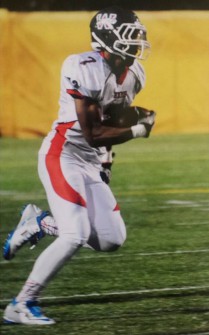 Great news out of Tacoma where Keun Palu-Thompson of Wilson High School has been offered by the University of Idaho.
"It feels really good to have my first offer," Palu-Thompson told NEI. "I had just got out of basketball practice and Idaho had called me. I called them back and then he (Coach Kris Cinkovich) said that he and his coaching staff had got together and decided that they were going to offer me.
"It's something that I've been dreaming about for a long time now and for it to happen is just a dream come true."
A football offer may come as a surprise to some, as Palu-Thompson is known more for his abilities on the basketball court. He actually stopped playing football for sometime, but decided to turn out for his senior season, and it has certainly paid off.
"I just didn't want to play anymore because I felt like I was too little," Palu-Thompson said. "I decided to play football this year because I didn't want to graduate not knowing how it felt to play under the lights on Friday nights.
"Football went way better than what I expected for myself. Because I hadn't played in 3 years, I didn't know if I could do the same things I did in Little League. Also, I had to learn a new position because I had always played quarterback and now I was at receiver, but it all turned out to be a good thing."
The 6-foot-2, 195 pound senior finished the season with 40 receptions for 900 yards receiving and seven touchdowns. Palu-Thompson finished the season with 16 total touchdowns, including six return touchdowns that tied him for a school record with Atlanta Falcons DB Desmond Trufant.
For his efforts, Palu-Thompson was awarded first team All-Narrows 3A as a wide receiver and kick returner, as well as second team All-Area be the Tacoma News Tribune.
Right now Palu-Thompson is back on the basketball court, where he was a second team All-Narrows player last season, but he will be taking some time off in January for his official visit to Moscow.
Recruiting has obviously been rather slow, but Eastern Washington and Wyoming have also enquired as of late, and there could be many more on the way as his film makes it around.
With the new found success in football, it would be easy for an athlete to get a big head, but Palu-Thompson has stayed humble and appreciative through the entire process, and gave many thanks where they were needed.
"I would just like to thank my Football coaches and teammates for taking me in and being a big part of my success from the season," Palu-Thompson noted. "I would like to thank my mom Fava Palu, she's never left my side and I love her with all my heart.
"I wanna give the biggest thank you to my step-dad Charles Pinkett. He took me as his own when I was just 5 years old and I wouldn't be the football or basketball player that I am today without him. He's my role model and I'm thankful for him being in my life."
We wish Palu-Thompson the best of luck, and will be sure to keep you updated on his progress as we make our way towards signing day.