Click Here for Riley Griffiths Highlights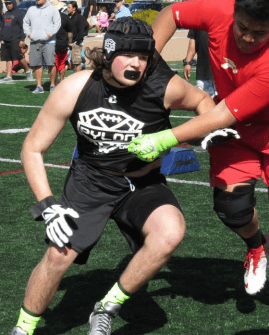 Great news from the Sammamish Plateau where Riley Griffiths ('15) of Skyline High School was offered by Montana State University.
"Feels great to receive my first offer, especially from a high caliber program like Montana State," Griffiths told NEI. "I have been talking to Coach (Cody) Kempt since last April when they visited my school, and I recently took a visit to Bozeman for their game against Portland State. They said they really liked my motor, aggressiveness, and work ethic."
Recently the senior was voted All-Kingco on both sides of the ball by the leagues coaches, for a second straight season, but is being recruited for his work on defense. This season he picked up 52 tackles and 6.5 sacks for the Spartans.
While that may not seem like a ton of sacks, Griffiths is consistently in the opposing backfield creating havoc, something that doesn't necessarily show up on a stat sheet.
In March, Griffiths went to Las Vegas with the Barton Football Academy for the Pylon Lineman Competition, and was one of the top defensive lineman in the one-on-one portion of the event, going against some of the best athletes on the West Coast.
From there, Griffiths attended the NFTC in Eugene, and made a few college visits, including one to Montana State.
"I've been there twice, once for their camp and once for a game," Griffiths said. "I loved Bozeman and the campus. The stadium and environment was insane and I love the support their fans give the team."
Currently Griffiths doesn't have a timetable for making a collegiate decision. He just got back from an unofficial visit to Washington State, where he attended the Apple Cup, but doesn't have any other visits scheduled.
Griffiths is also hearing from Eastern Washington, Northern Arizona and Weber State, so more offers could be on their way.
We will be sure to keep you updated on Griffiths as we head towards Signing Day on February, 4th.