Click for Majid Firoozi Highlights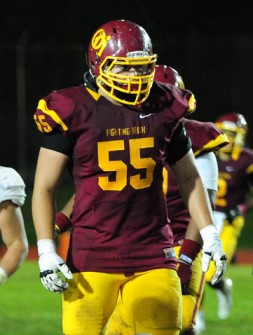 As we head towards signing day, we want to take time and catch up with 2015 recruiting class athletes that have decisions to make in the very near future. One of those athletes is Majid Firoozi of O'Dea High School in Seattle.
The 6-foot-4 inch, 255 pound offensive lineman was awarded first team All-Metro for a second straight season, and helped lead the Fighting Irish into the state tournament with a 9-2 overall record, but it really did not end the way he would have liked.
"There's nothing I could have asked more of our team," Firoozi told NEI. "Yeah we didn't go as deep in the playoffs as we had hoped, but I was surrounded by a bunch of unselfish guys that would fight till the end and that's exactly what we did."
Unexpectedly Firoozi saw more and more time this season on the defensive line, as spot he really had not played previously.
"As we went deeper in the season and the playoffs the coaches wanted the biggest and most physical guys out there," Firoozi says. "I'm thankful they trusted in me to play on both sides. I had a blast playing defense. It was fun to run around and make some tackles."
With the season over, Firoozi can turn his focus to recruiting. He currently sits with offers from the United States Air Force Academy (Mountain West) and the University of California, Davis (Big Sky).
Firoozi also sports a 3.4 accumulative GPA, and academics are something he takes very seriously.
"I love both schools that have offered," Firoozi said. "I really appreciate how they value academics and football. Academics are as important if not more important to me than football is."
Firoozi is in no real hurry to make his decision and plans on using December and January to take his visits and make the right choice.
"As of right now they both are even," Firoozi noted. "I want to take my officials to both schools so I can really get a feel of the coaches and campus, then after that I can get a better idea of where I want to go."
There are other schools in the hunt, as schools like Idaho, Washington State, Eastern Washington, Montana, and a couple others are showing interest.
We will keep you updated on Firoozi as makes his visits and moves closer to making his final decision.