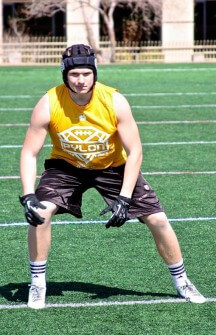 Great news from Yakima where Ketner Kupp of AC Davis High School has been offered by Eastern Washington University.
"Getting this offer is a dream come true," Kupp told NEI. "I know I will get to play football for at least four more years and that's all I've ever wanted. I know that my work is just getting started, but I'm excited for what is to come."
Kupp was visiting Cheney when the offer was presented. EWU head coach Beau Baldwin contacted him about meeting up, not even knowing he was already on campus.
"All the coaches were in the staff room watching film and I went into coach Baldwin's office," Kupp said. "He welcomed me and led me into the staff room and just told me they were all really excited and had just re-watched my film as a staff and wanted to offer me a full ride, regardless of what the rest of the league thought."
As many know, Ketner's older brother, Cooper, is a star wide receiver for the Eagles. So, will he be following his brother's foot steps to Cheney? The 6-foot-1, 208 pound senior says it is a question that comes up a lot when speaking with college coaches.
"The big thing I want coaches to know is that regardless of how cool it would be to play with Cooper, I am going to do what is best for me and play on a team that I feel I fit best," Kupp says.
"If I do end up committing to EWU, it would be one of the coolest things ever to be able to suit up and play with Coop. I've always been a year too young to be on any team with him but since he redshirted I have a chance to now."
This past season, Kupp helped the Pirates to a 9-2 record, while being named the Big-9 Conference Defensive Player of the Year. He is a two-time team captain, and has also been nominated for All-State.
Kupp is seeing interest from all over the FCS, including Montana State, Idaho State, North Dakota State, North Dakota and Northern Arizona.
We couldn't be happier for Kupp and his family, who are a group you truly can't help but root for, and will be sure to keep you up-to-date on news when it breaks.