Click Here for Mason Manning Highlights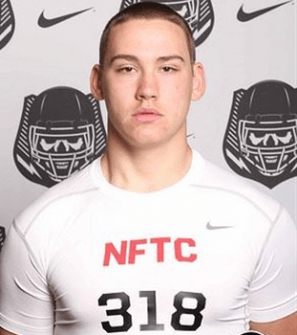 One of the top offensive lineman in the Washington's 2015 recruiting class in Mason Manning of Capital High School in Olympia.
The 6-foot-6, 265 pound bruiser currently sits four offers, with his most recent being Holy Cross, who offered just a few days ago. He was offered by Eastern Washington following a one day camp in June, followed by Cornell in August, and later Montana State.
"On June 26th I attended a one day 'Renegade' camp at Eastern Washington," Manning told NEI. "I was having a very good morning, working hard, performing well and Eastern Washington offered me at lunch break.
"I really like Coach (Aaron) Best, his energy and passion for football are exciting. His football IQ is off the charts, likely why his Offense is the force it is, I believe they stand toe-to-toe with many FBS Offenses. So to have a the faith of Coach Best and Coach Baldwin and a Full Ride Offer from such a powerhouse football program like Eastern Washington is truly a blessing."
Eastern Washington has made a good impression on Manning. In November he travelled to Cheney to watch the Eagles take on the University of North Dakota.
"That was truly an amazing game to watch," Manning said. "The comradery of the team and coaches, the fans, the red field. I felt so blessed that I have the opportunity to play for such a powerhouse football program and to earn my degree in Chemistry or Engineering at the same time is a true blessing.
"The thought of my family being able to come watch me play at home is very nice. I look forward to heading back to Eastern Washington for my Official Visit."
Manning has taken a couple visits to the East Coast to attend camps, including Harvard and Dartmouth who are both still showing interest, but his camp visit to Cornell in July would eventually be rewarded with an offer.
"I had a very good camp," Manning noted. "I was in contact with and received positive feedback from Head Coach (David) Archer, OL Coach (Roy) Istvan and the recruiting coordinator Coach (David) Hanna. In Mid-August I was excited to find out that Coach (David) Archer wanted me at Cornell University.
"Cornell University is a prestigious, powerhouse academic institution in both Chemistry and Engineering. Again a true blessing to have this opportunity."
Manning was accepted into Cornell today, a few days after returning from his official visit to the school, where he was very happy to hear about the coaching staff's offensive philosophy.
"Coach Archer believes everything starts offensively with a great OL," Manning said. "If you have a great OL then you have a passing game and a running game… I agree of course. He has quite a large group of scholarship football recruits that have committed to Cornell instead already."
Midway through this past season, Manning got his third offer, this being from Big Sky power Montana State.
"Coach (Cody) Kempt and Montana State had followed me this season and officially offered me a full scholarship in October," Manning says. "I have not yet had the pleasure of visiting Montana State, although my mother has been to the campus and she tells me it is beautiful.
"My high school football schedule did not allow me to travel to Bozeman but I hope to get out now that our season has concluded."
This is another great recruiting job by Montana State, and Cody Kempt, who have done a tremendous job in the northwest.
"I am in contact weekly with Coach Kempt, he is always excited to share the success of their program and is positive and energetic," Manning stated. "I also believe that Montana State football is going to continue to be a force to be reckoned with in the next four years.
"They have a very strong chemical engineering program. I look forward to my Official Visit to Montana State."
If you haven't noticed, academics are a common theme. Manning takes seven classes a day as part of the challenging International Baccalaureate (IB) program, and sports a 3.6 GPA.
"I am confident that my high school advanced curriculum has prepared me academically for the challenge of being a D1 student athlete," Manning said. "I continue to take academically rigorous courses my senior year. These include IB History of the 20th Century, IB Chemistry II, IB English 12, Spanish 4, Anatomy and Physiology, and Pre-Calculus.
"It has always been my goal to embrace my passion and talent for football by playing while earning my undergraduate degree in Chemistry, Biochemistry, or maybe Chemical Engineering with the possibility of continuing on to graduate school or medical school."
There may be more offers in the future for Manning, who is also in talks with Columbia, Brown and Lehigh. He is also hearing from some pretty prestigious D3 schools like MIT, University of Chicago, Tufts, Case Western, John Hopkins, and Harvey Mudd.
The options are plenty for the well rounded student athlete, and we will be sure to keep you updated as Manning nears a decision.