Click Name for Highlights – Omar Dyles , Ryan Bowman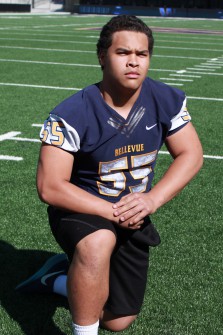 The Montana State Bobcats have done a tremendous job recruiting the Pacific Northwest this year. They have offered a variety of high caliber athletes, and made their intentions known by offering two 2016 defensive lineman, Omar Dyles and Ryan Bowman of Bellevue (Wash.) High School.
"Ryan is family too me," Dyles told NEI. "To receive an offer to a great school with my best friend made it 20 times better. I would love to play college ball with Ryan, it would be an experience like no other because we started really getting to know one another our freshman year.
"We really just wanted to be like Shane Bowman and Marcus Griffin, the big men upfront leading the defense. Hopefully everything works out with Ryan and I playing together for another four years."
Montana State coach Cody Kempt has gotten a lot of credit for the Bobcats being so active in the Northwest, and was at it again last weekend, as he took in state championship games in the Tacoma Dome.
"I talked to coach Kempt, we talked about our season and the disappointment of the state championship game," Bowman said. "He asked me some personal questions about myself and my family. I told him how grateful and excited I was to receive the offer."
Dyles echoed many of the same thoughts.
"He (Kempt) asked me to give him a call in the morning," Dyles says. "Once I called him he had told me that they love my speed and get off on the ball, they love how physical I am and the way I use my hands. He then told me that they would like to offer me a scholarship. I was just ecstatic I kept thanking him and thanked god."
This is offer number two for Dyles, who was previously offered by the University of Montana, but is was the first for Bowman. Neither athlete has visited Montana State, but there are plans for visits this offeseason.
Dyles indicates he is receiving Pac 12 interest from CAL, Oregon State and the University of Washington, with plans to visit all three, and the two Montana schools in the coming months.
Bowman, who's older brother Shane is a freshman at the University of Washington, is seeing interest from Boise State, UCLA, Utah, Colorado, Washington State and Washington.
Both athletes were voted first team All-Kingco members in 2014, and could end up on All-State teams before all is said and done.
We will keep you updated on both athletes, as they still have plenty of time and more offers before signing day in 2016.