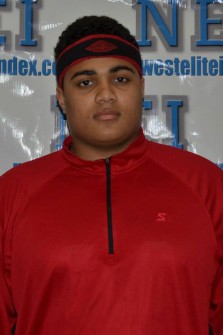 One of the region's top defensive lineman returning next season is Massen Newton (6-1 265 DT 16′) of Lakeridge High School. He earned 1st team all TRL honors this past year in the states toughest conference. Newton will be a 4 year starter for the Pacers, playing varsity ball since his freshman season.
Multiple universities have already started to take notice with his dominating performance on the interior. Massen added 71 total tackles (7.9 Per), 4 tackles for loss, and 10.5 sacks on the season. He has the film to back up his accolades and some of the most impressive numbers of any defensive tackle in the western region.
On top of all this many will remember his cousin Marqueese Royster (DL-Portland St) & his family in general. It is loaded with D1/NFL athletes up and down the board. Former USC/Jacksonville Jaguar RB Mazio Royster & Pitt/PSU lineman Marcus Royster to name a few. Add to this his father Woodrow Newton playing at Southern University, and his uncle Victor Newton at Rutgers.
Massen moved to Oregon prior to high school & has put in the necessary work. Fundamentally he is as gifted as any lineman in the state. Lakeridge loses a talented senior class , but will have some legit athletes back up front. Hopoati Pauni (6-0 265 16′ DT) returns, with talented sophomores Jack Holum (6-5 220 17′ DE) & Beau Bryant (6-2 215 17′ DL) being two other very influential kids.
Look for Newton to be a conference player of the year favorite in 2015, as he will require a consistent double team from opponents. We wish Massen continued success as the off season gets underway.