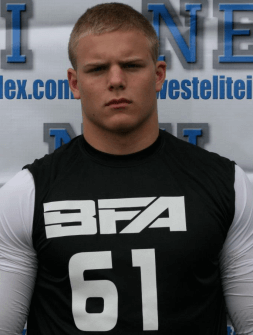 Former Central Catholic star Dallin Leavitt is considered one of Oregon's top prep safeties ever. This past week he made news when his transfer from BYU to Utah St became official.
Leavitt played in all 13 games as a freshman, with 1 start. He followed that up this season, finishing 5th on the team in tackles (43) with 3.5 tackles for loss. Due to NCAA transfer rules he will have to sit out the 2015 season.
Speaking on the recent move the Barton Football alum says, "I couldn't be more excited, I love it". Adding, "I feel very confident about the USU program and their hard working, blue collar approach."
The Aggies are one of the fastest rising teams in the nation, going (29-11) over the last three seasons. Getting the services of what will be one of the better safeties in America is huge for a program already rising. It will be 2016 before he hits the field, but his junior and senior year have the potential of being special.
Adding to his thoughts Dallin says, "Head coach Wells and Coach Orlando (Defensive Coordinator/Safeties) have text or called me everyday since the move, which I think reflects on the positivity that you feel from everyone in the program". He continued, "Practices are loose but the players are focused and I think its a perfect fit."
Utah St has done well recruiting the Northwest, also signing TE Wyatt Houston out of Horizon Christian High School in Tualatin a few years back. Houston is now considered one of the better tight end's in the country returning next season.
In conclusion Dallin said, "Coach Orlando wants me to be my wild and crazy self on the field, and he will let me do my thing". Adding, "You can tell that Coach Wells cares about you as a person, as he reemphasized that you can't be great at football if you don't try to be great in all aspects of your life."
Leavitt will be enrolled at USU come the start of January. We wish the standout DB continued success and will bring you updates as they happen.