Click for AJ Hotchkins Highlights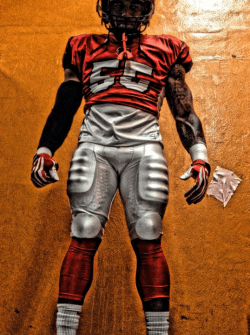 Many remember AJ Hotchkins (6-0 240 MLB) as one of the hardest hitters ever to come out of the Northwest. The former Tigard standout initially committed to Wyoming, but made the transfer to Riverside Junior College in Southern California prior to the season.
Hotchkins had a handful of D1 offers out of High School, but felt he could play at a higher level. Going the JC route was a risk but AJ has made the most of his opportunities, being named the SCFA (Southern California Football Association) Defensive Player of the Year.
Anyone familiar with JC ball in Cali knows its littered with D1 talent. Hotchkins added 101 total tackles (8.4 Per), 9 tackles for loss, with 2 sacks, and 1 INT. Earning player of the year honors as a freshman in one of the nation's toughest conference's, speaks to the level of his game. His early offers include Florida Atlantic, Texas St, Southern Mississippi, North Texas, Western Kentucky, Idaho, Montana St, Bowling Green, and Cal Poly.
The Tigers went (10-2) this past season as he has also gained significant interest from the likes of Hawaii, Nebraska, Washington, Rutgers, and Purdue. AJ's stock will continue to rise as he will be considered one of America's top junior college linebackers moving into next season.