Click for Nathan Jacobson Highlights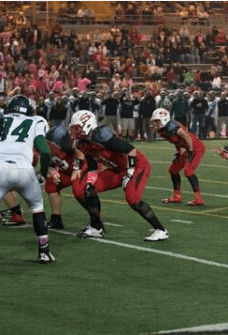 While he has been committed to Eastern Washington now for a few months now, Snohomish (Wash.) OL Nathan Jacobson has seen his recruitment continue as Pac 12's have taken notice.
At 6-foot-5 and 275 pounds, Jacobson has the size to play major college football, and watching his film you will see a player that might just be flying a bit under-the-radar, even with the offers he currently has.
Jacobson's first offer would come a few weeks into the season, when Portland State made their intentions know. The Eastern Washington offer would come about a month later, and had been brewing for some time.
"Coach (Aaron) Best and I continued to talk quite a bit," Jacobson told NEI. "After about game six Coach (Beau) Baldwin called and offered me. A week or two after the offer I went to Cheney to watch Eastern play and tour the school. Two days after that I verbally committed there."
Right now he sports just the two offers, while bigger schools have started showing interest, but it is the Washington State Cougars that have shown the most.
"I've been talking to 5-6 schools since June," Jacobson said. "Portland State and WSU are continuing to recruit me pretty hard. I will be taking an official to Portland and Eastern in January, and if WSU ends up offering me I will take an official there as well."
This past season Jacobson was awarded as first team All-Wesco on both sides of the ball by the 4A coaches. Recently, he also picked up an All-Area award from the Everett Herald. Jacobson is a 3.0 student and also participates in track, throwing the shot, discus and javelin.
In the end, it is all about football.
"I don't really know what to say besides I love football," Jacobson noted. "I love hitting people. I love my team. I've been playing since I was six and it was the greatest decision."
As we get closer to signing day, February 4th, and more athletes commit, Jacobson could see his offer sheet expand.
We will be sure to keep you updated if any new news breaks.