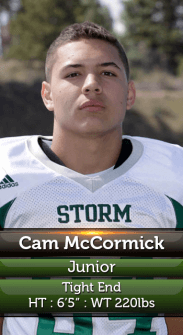 One of the fastest rising athletes in the nation for the 2016 class is Cam McCormick (6-5 225 TE/DE 16′) of Summit High School in Bend. On Saturday he received what amounts to his biggest offer yet, from the #2 ranked Oregon Ducks.
Over the last month Cam has received offers from the likes of Arizona, Boise St, and Montana St. Referencing the scholarship offer McCormick says, " I am extremely honored to receive this offer.. Each and every one."
The Storm just finished their best season in school history at (7-3), with Cam doing significant work on both sides of the football. He caught 35 passes for 491 yards and 8 TD's offensively, while making 44 tackles, 9 tackles for loss , 4 sacks, 5 hurries, and 3 pass deflections on defense.
Expanding on his thoughts he says, "I have a big decision to make and I will take these next several months to review each school/program, and make the best decision for my future". Adding, "I look forward to getting to know the coaching staff better at each school."
On top of all his accolades McCormick is an incredibly humble kid. He recently set a school record for rebounds in a single game (22) on the basketball floor, while excelling on the track during the Spring. His 11.35 100 meter dash as a sophomore was enough to put everyone on notice.
You could very well see some of the top universities from around the country visiting Central Oregon in the near future. You can't teach (6-5 230), with unmatched overall athleticism. Head coach Padilla and his NFL staff will be great resources for the youngster. We wish him continued success and will bring you updates as they happen.