Click for Erik Glueck Highlights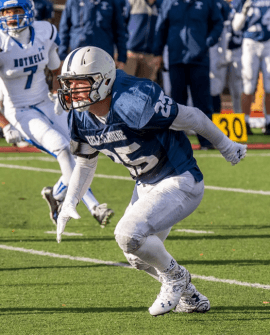 As focus begins to turn towards the 2016 recruiting class, we will begin taking a look at the top athletes at each position. We will start at Linebacker, where Erik Glueck of Bellarmine Prep (Tacoma, Wash.) has been one of the top athletes at the position the past two seasons.
Standing 6-foot-2 and 230 pounds, Glueck can be very intimidating in the middle. The past two seasons Glueck has been near the top of the tackling charts, finishing with 141 this past season, after 128 as a sophomore.
For his efforts Glueck was Glueck was named first team both All-Narrows and All-City, honors he has now received in back-to-back seasons.
Watching Glueck's film you will notice he has the ability to be both a run stuffer and coverage linebacker. He is good in space and does a tremendous job reading the play.
"It was a great honor to be recognized as an all league player because it is voted on by the coaching staffs from the competing teams in the league," Glueck told NEI. "I don't specially try to play with the same technique as anybody in particular, but I do recognize the aggressiveness of Lawrence Taylor and Clay Matthews."
Aggressive and overall hard work is evident for Glueck away from the football field, where he sports a 3.97 GPA.
"Education is something that is very important to me," Glueck said. "I am an honor role student and also in the national honor society. Part of being in that society is tutoring other students at the school for free."
Right now Glueck does have an offer from the University of Ohio, an offer that came just before his junior season.
"(Ohio) Coach James Ward and I have been talking to him for about a year an a half," Glueck says. "The offer came late this summer when I called and spoke to him and he offered me a full scholarship to play football for the university."
As his film gets around and the word gets out, Glueck has started to see interest from all over the college football landscape.
"Stanford Coach Randy Hart and I have been in communication frequently," Glueck noted. They have shown a lot of interest an the interest is mutual. UW and I also communicate frequently and I have been able to go to multiple game and see the facilities.
"I have had multiple communications with the Oregon coaching staff and was able to attend a game and tour the facilities. I have had frequent communication with Boise State Coach (Eliah) Drinkwitz. Others that have shown interest are WSU, Alabama, Nebraska, Norte dame, Indiana, Wyoming, UCLA, Colorado, Utah, Montana, Idaho, Missouri, Northwestern and Yale."
Bellarmine Prep looks like they will be very tough again next season, as they return a very nice group of underclassmen. Glueck is the unquestioned leader of that group, and you can expect to hear his name a lot this offseason.