Click for Conner Crist Highlights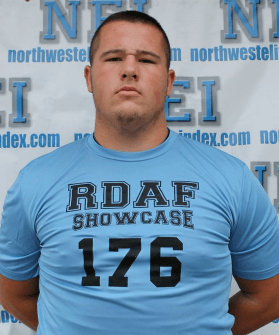 Oregon's 2016 class looks to be one of the deeper groups we have seen in some time. There are double digit D1 kids up and down the board, led by Tigard's 1st team all conference, and 2nd team all state tackle Conner Crist (6-4 300 T/DT).
Conner will lead an up front group that will most likely be considered the state's best in 2015. Derek McMurray (6-7 350 T 16′) and Chris Kennedy (6-2 295 G 16′) will legitimize a returning cast that has gone (25-2), with two conference titles in 2013 & 14.
Crist brings legit size and overall athleticism with his game. He showed off unique ability for a big man from his D line spot, being one of the top interior lineman in the state. Fundamentally he is as gifted as any kid in the region. Referencing this past year he says, "I think that we played really well all year and came together as a team". Adding, "We fought each and every week and never gave up, being resilient all year long."
As a sophomore Conner showed up at the BFA elite events each and every week, proving that he was willing to put in the time and not just sit back on his talent. He was able to work with Barton Football line coach Alex Linnenkohl (All Pac 10/NFL/ Arena), who feels that the sky is the limit for the Tiger standout.
The Three Rivers Conference will be as good as any league in Oregon next season, when referencing the last decade. Tigard, West Linn, Sherwood, and Lake Oswego, could rank as four of the top six teams state wide, just to put the league's talent in to perspective.
Speaking on the upcoming months Conner says, "My goals for the off season include getting bigger, faster, stronger and definitely visiting some schools in my down time". He continued," I will also be going to the NEI/BFA trainings and showcases during the winter, and working with a trainer to increase my speed and flexibility."
When all is said and done Crist will have multiple D1 options and go down as one of the top lineman in Tigard history. His talent on the field matches all that he brings to the table off of it. You will hear much more from Conner on the camp circuit as the off season gets underway.