Click for Tony Kraus Highlights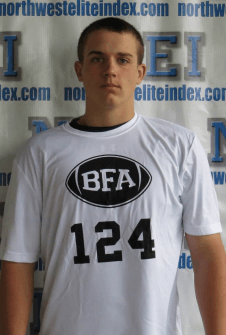 Over the years Canby High School has been a traditional football power and produced some of the state's top talent. Junior Tony Kraus (6-3 235 DE/TE 16′) will help in continuing that trend, earning Three Rivers League Defensive Lineman of the Year honors this past season.
Kraus had a phenomenal sophomore campaign, grabbing 1st team all league accolades in Oregon's toughest conference. He followed that up this year with his player of the year award making 56 total tackles, 6 tackles for loss, and 3 sacks.
The Cougars were an extremely deceiving (3-7), dropping six games to teams ranked in the state's top 10. Referencing this past year Kraus says, "It didn't go exactly the way we wanted it to, but we feel good about the kids that we have returning and our chances next season."
Tony also caught 8 passes for 153 yards and 3 TD's from his tight end spot. He is an outstanding 3 sport athlete (basketball, baseball) with his primary focus being on the football field. He attended the BFA elite events last off season, being featured in some epic battles, with the state's top ranked Junior lineman Conner Crist of Tigard.
Adding to his thoughts Tony says, "I want to add some additional size, but most importantly stay athletic". He continued, "I will be training at the elite events during the off season and getting to some specific collegiate camps during the spring and summer."
Kraus is typically the first guy to the field and the last one to leave. He comes from a football family and is the type of kid that every good program wants to build around. Look for TK and Canby to be legit in 2015. We will bring you updates as they happen.