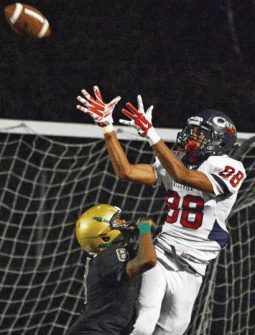 If we are referencing the top young receiving duo's in the Northwest, Mason Elliott (6-3 180 WR/TE/S 17′) & Samori Toure (6-1 165 WR/CB 16′) of Westview, are two of the first names that come to mind.
Both kids possess legit size and speed, and project at the division 1 level with continued progression. Mason caught 32 passes for 444 yards and 8 TD's, averaging 13.9 yards per reception. He has the potential of being the top WR in the region for the 2017 class. He is that good.
Samori earned all conference honors on both sides of the football, grabbing 1st team all league accolades offensively, opposite player of the year Jordan Happle. Toure caught 24 passes for 447 yards and 7 TD's, while making 39 total tackles with an INT on defense.
Referencing the upcoming year Samori says simply, "Both of us are putting in the hard work this off season to be ready for next."
Samori broke off multiple Crusader DB's, in a close 49-44 loss to Jesuit earlier in the season. It was a breakout performance, with 10 + catches and multiple TD's, to set the tone for the rest of the year. Elliott will be one of the most recruited kids in the state as you can't teach certain aspects of his game.
The Wildcats finished (8-2) dropping a 1st round shootout to Lakeridge 79-67. Quarterback and conference player of the year Austin Brisbee's services will be missed. One big question will be who will get the ball to the standout wide receivers next season?
Regardless Westview always has the potential of being one of the top teams in the conference and state. It is traditionally one of the more athletic high schools in Oregon with all sports considered.
Expect to hear a great deal more from both Elliott and Toure as the off season gets underway. Both kids are legit on multiple levels.