Click for Matt Laris Highlights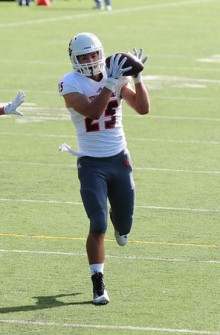 Matt Laris of Eastside Catholic is one of Washington's top receiving targets in the 2016 recruiting class, he recently picked up his first offer when Montana State University made their intentions known.
"Feels great to know that all the hard work put in over the years gets recognized," Laris told NEI. "My family has been there supporting me all along the way. The support from my teammates, coaches and the Eastside Catholic community has been nothing but amazing.
"The winning tradition from youth football all the way through this years Championship season has been great. Hard to believe that this year was the 7th that I had the chance to play football with some of my teammates, going back to 5th grade."
This is another offer from Montana State to a local athlete, as the Bobcats have become very active in the State of Washington.
"Cody Kempt, the Montana State wide receiver coach direct messaged me and asked me to call him," Laris said. "This was after some back and forth starting only the week before. So, I phoned Coach Kempt that same evening and he explained that he would like to develop a relationship with me and my family.
"He then went on to say that Montana State wanted to offer me. I was very surprised of how quickly this happened. He then explained that MSU wanted to make sure to be the very first team to offer me."
The 6-foot-3, 210 pound Laris says the Bobcats would like him to play the same position he does at Eastside Catholic, using his size and speed (4.47 – 40 yard dash) to create mismatches.
Laris is coming off one of the most impressive season's for a wide receiver I can remember. He finished with 1,492 receiving yards and 16 TD's to help the Crusaders to a 13-1 record and their first 3A State Championship. For his efforts, Laris was awarded first team All-Metro, All-Area and All-State.
This could be the first of many offers, as the junior is also hearing from the likes of Washington and Boise State. Laris is a unique athlete, as typically receivers with his size do not usually possess such athleticism.
Laris is a 3.6 GPA student taking honors courses, so academics are something he puts first and foremost.
"I asked Coach Kempt about the academics at MSU," Laris said. "He explained that MSU was very strong in some of the area's I had interest, Business and Engineering. He was very positive and really had a lot of good things to say about the academics at MSU.
As of today, Laris has yet to visit Montana State, and it might be some time before he does, as his junior baseball season is on the horizon.
We should be hearing more on the Laris front as the offseason progresses, and we will be sure to keep you updated when news breaks.