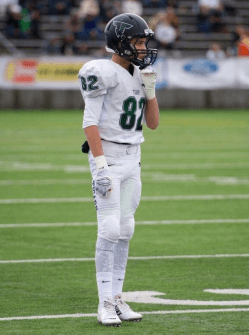 Anyone familiar with the Tigard program knows it's tough to start as a youngster. From the youth on up it could be the most well run organization in Oregon, as they have gone (47-5) covering the last four seasons.
That said as freshman Braden Lenzy (5-10 165 CB/Slot) started and made a name for himself this year. He will be considered one of the top athletes in the western region for the class of 2018.
You can go back decades and count on one hand how many freshman have started at Tigard, much less the state championship. It will be one of many records that he will set at THS through the course of his career.
In the last three weeks of the year Lenzy guarded Oregon's top Junior WR's LaMar Winston (6-3 205 Central Catholic) and Jordan Happle (6-1 190 Jesuit), along with the state's top Senior receiver in Keegen Hlad (6-4 185 West Salem). Just to put the competition into perspective.
Speaking on starting and the season in general Braden says, "When I was first told that I would being starting on Varsity I didn't know if I was ready physically, but I felt fine athletically". Adding, "As the season progressed I felt that I was taking huge strides each week, which I needed going into the title game against a player like Winston."
Lenzy is a three sport kid and one of the fastest athletes in the Pacific Northwest. His anticipation out of the secondary is something that you can't teach, as you can expect him to be player of the year candidate on both sides of the football in the coming seasons.
Braden has D1/professional genes, which includes former NBA star Eric Snow. He is an honor roll student and someone that is adamant about the praise going to his teammates, saying "I didn't settle down until Tysen Prunty came over and talked to me earlier in the season, helping me boost my confidence."
God given talent aside, Lenzy is a kid that just gets it. He is humble and always willing to put in the necessary work to get better. Expect to hear much more from the talented freshman this off season as his stock continues to rise.