Click for Scooby Reynolds Highlights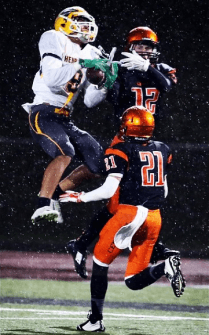 Having flown relatively under-the-radar for some time now, Scooby Reynolds of Foss (Tacoma, Wash.) High School is beginning to see his recruitment pick up as we near signing day. The WR/DB was recently offered by Idaho State, his second after the Naval Academy offered last April.
"Coach (Sheldon) Cross contacted me and told me that they just seen my film and they really liked what they saw," Reynolds told NEI. "We been have communicating for the last couple of weeks, then the other day they asked me if I wanted to be Bengal and then told me they will be coming out to visit me and my family."
This could be a bit of a homecoming in a way for 6-foot-3, 195 pound senior ('15), who is familiar with Idaho, but no necessarily the University itself.
"To be honest I don't know too much about ISU," Reynolds said. "I lived in Meridian, Idaho for 5 years and all I heard was Boise state, Boise State, Boise State and every now and then Vandals, but never too much about the Bengals. I do know they play in a dome, they run the spread offense and they offer the degree program I'm interested in."
The Bengals do run a wide open offense that puts up a ton of yards. Last season they were the only FCS school in the country to have an athlete finish top 10 in passing, rushing and receiving yards. Idaho State coaches have told Reynolds they like him at Receiver, but they are not closing the door on other positions.
This past season Reynolds moved around a lot on the field, as the Falcons tried to utilize his playmaking abilities. He finished the season having played QB, RB, WR, TE, CB, SS, FS, and DE, while also handling kick return duties.
"I grew up playing Quarterback for my dad in Optimist football and in a football program my dad started back in Idaho called the Idaho Spring Football league," Reynolds says. "So I knew I had the capabilities to stand behind center. I started off well at the position and at one point lead the league in scoring with 48 points in the first 4 games.
"After that, I was moved to different positions for the remainder of the season. So I really didn't get the opportunity to dedicate myself to one position. But I did everything I could to help our team win."
With a month before signing day Reynolds doesn't have a ton of time to make a decision, and will be meeting with the Idaho State coaching staff in the coming days to learn more about what the school has to offer.
We wish Reynolds the best of luck and will be sure to keep you updated when he decides to make his decision.