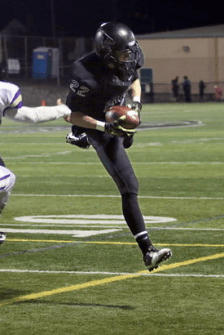 As recruiting picks up and signing day draws near one of the most consistent names that you hear is Tysen Prunty (6-2 190 15′ S/ATH) of Tigard. The talented transfer from 4A Valley Catholic had a breakout senior campaign helping the Tigers go (13-1), and win the brutally tough Three Rivers Conference.
Prunty led his team in multiple statistical categories after not playing his junior season at Valley. His 107 total tackles, 5 INT's and 8 pass deflections set the tone in the secondary. He earned all conference honors in 2014 from his safety spot, but had gone somewhat under the radar not playing the year before. Tysen is a three sport kid and one of the top overall athletes in the state. He won a state championship in hoops while at Valley Catholic, while earning all state accolades on the track.
Give credit to Montana St who recently offered him a partial scholarship. Interest in Prunty has sky rocketed in recent weeks with Eastern Washington and multiple other schools making contact. He will be taking official visits to both universities (EWU, MSU) over the next two weekends and weighing his options.
Speaking on the year He says, "I thought we had a great season.. Kids stepped up and played together through every issue, including injuries which were a big problem for us". He continued, "My teammates were great and welcoming as we became close with one another, and created a season full of memories that I won't ever forget."
Tysen is a 3.75 student and has an upside that won't quit. He comes from a very athletic family with his younger brother Jordan looking like one of the top athletes in Oregon for the 2018 class. Adding to his thoughts on Tigard he says, "The coaching staff did a great job of not only developing me as a player but also as an adult, and preparing me for life."
As most know the Tigers consistently produce some of the top athletes in the state. His teammate and close friend Sam Inos was the Oregon 6A Defensive Player of the Year. Most would consider Prunty and top senior LB Pepe Tanuvasa a close second to Inos if we are comparing seasons. These three represent a select few to have been offered a division 1 scholarship thus far, in the 2015 class.
A lot will unfold in the coming months as Prunty says, ""Moving forward one goal of mine is to play football at the division 1 level". Adding, " I feel like I have the work ethic and potential to be a solid football player wherever I go."
You can't teach size and speed and Tysen possesses both. His overall athleticism speaks to his upside as you can expect to hear Prunty's name in the coming months and at the collegiate level. We wish the standout student athlete continued success and will bring you updates as they happen.