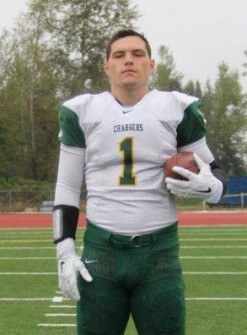 Great news out of the SPSL where Kentridge LB Braiden Beckman has picked up an offer from Idaho State University.
"I got called into Coach (Marty) Osborn's classroom, so I had a pretty good feeling that someone was here to see me," Beckman told NEI. "I was happy to see it was (Idaho State) Coach Sheldon Cross. He said Idaho State was excited about my senior year and he sees me playing inside linebacker, with the potential to play as a true-freshman on special teams and some defense. He then said they were offering me."
The 6-foot-2, 215 pound Beckman is one of Washington's most prolific tacklers finishing his senior season with 165 tackles, breaking the school record of 148, which he set during his junior season, but has still flown a bit under-the-radar on the recruiting scene.
"I'm so happy and grateful that Idaho State came forward with an offer," Beckman said. "I'm super excited and can't wait to play. It's been a long-term goal of mine to play at this level."
Beckman will make his official visit to the Pocatello on January 30th, but this wont be his first trip to the south eastern part of Idaho.
"I made an unofficial visit during the year and got to see them beat Cal Poly in front of a capacity crowd," Beckman noted. "It was a great game to watch. The fans were really supportive and it seems like it would be a great environment to play in. I took a tour around the facilities and campus. I really liked the weight room and the new practice field."
Idaho State is one of the fastest rising programs at the FCS level. Head coach Mike Kramer just finished his fourth season at 8-4, with two losses coming to FBS opponents, and was named the Big Sky Coach of the Year.
The Bengals have been very active in recruiting the Northwest, especially Washington, and I am sure they are not done.
We want to congratulate Beckman and wish him the best of luck moving forward, as he moves towards fulfilling a dream.