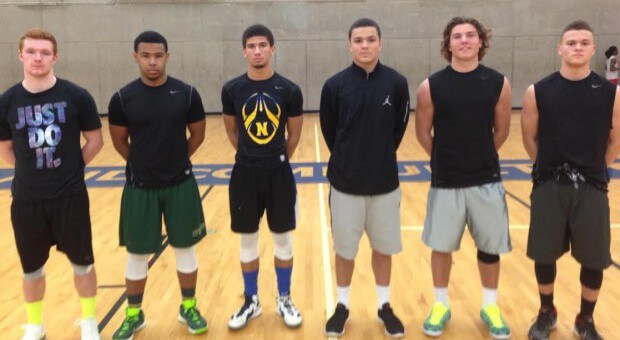 This past weekend in Portland, Barton Football kicked off it's 4th straight season of Winter elite events. BFA will once again be representing the Northwest in Las Vegas at the Pylon Sports 7 on 7 National tournament (February 28/March 1). Pylon has also brought back the lineman challenge which was a big success last year.
Initial selections were made for the Oregon/SW Washington team as early indications have this being a special group. Four of the first seven picks already hold D1 offers, and there are some very talented kids that will still be added.
The team will be decided by February 2nd, so the next few weeks of elite events will be important for any athlete looking to participate. Congrats to the talented group already selected. We will be making announcements each weekend through the month of January.
SKILL
Brady Breeze 6-1 200 Safety 2016′ Central Catholic, OR
The Oregon commit and Mt Hood Conference Player of the Year was a standout on last year's underclassmen team. He is currently ranked one of the top 10 safeties in America and will be called upon to lead this years group from his secondary spot.
Elijah Molden 5-11 175 Cornerback/Athlete 2017′ West Linn, OR
Molden is considered one of the top players in the nation for the 2017 class. He will be an offensive and defensive player of the year favorite within the state next season. He projects as a corner, but is equally dangerous offensively going for close to 20 TD's in 2014. Oregon and Washington have offered with many more to follow.
Jordan Happle 6-1 185 Wide Receiver/Free Safety 2016′ Jesuit, OR
The Metro League defensive player of the year went off this past season. Jordan went for 20 TD's and 1900 yards offensively earning 1st team all state accolades from his WR spot. He will be a featured wide out in Vegas, and one of the top dual threat athletes in the west.
Anthony Adams 6-0 175 Athlete 2017′ Newberg, OR
Adams earned 1st team all TRL honors this past season from his DB position and was an underclassmen MVP on last years squad. He is versatile enough to play on either side of the ball and could be the best player ever to come out of NHS before he is done.
Rey Green 5-11 195 RB/Safety 2016′ Evergreen WA
Green has an offer from Montana St and projects as a potential double digit D1 offer kid. He will get the ball early and often for Don Johnson's Plainsmen next season, and should be considered one of top 3 backs in Washington for 2016.
Parker Bull 5-11 195 RB/Safety 2016′ Aloha, OR
The kid out of Aloha excelled on last year's underclassmen team. He was an All Metro athlete on both sides of the football for the Warriors. His ability to cut and accelerate has been very apparent at the BFA workouts.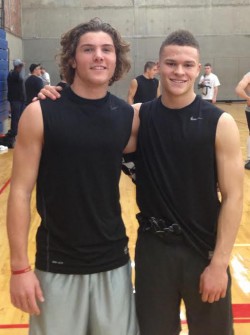 LINE
Conner Crist 6-4 300 T 2016′ Tigard, OR
Currently Oregon 's top ranked lineman for the 2016 class. Conner earned 1st team all league and 2nd team all state accolades this past season, and is a big reason why the Tigers are (25-2) over the past two years.