Click for Matt Philichi Highlights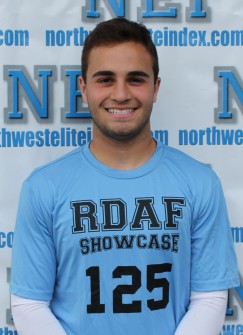 Even as one of the nation's top kicking prospects, recruiting has been a fairly slow process for Matt Philichi of Bellarmine Prep (Tacoma, Wash.), but his options continue to grow as we near signing day.
Army was the first school to offer Philichi, doing so in Mid-August, and since then he has picked up preferred walk on spots from Washington and Idaho, while recently adding a scholarship offer from the Air Force Academy.
Air Force came to see me at school in the fall and has stayed in touch," Philichi told NEI. "Coach (Mike) Thiessen called me and said Air Force would really like me to be a part of their program and then offered me."
Philichi is really in no hurry to his final decision, wanting to make sure he fully explores all of his options before picking the school that best fits.
"I'm still talking to a number of other colleges including Ivy Leagues," Philichi said. "I'm scheduled to visit West Point (Army) next weekend followed by the University of Washington on January 31st . I hope to get to Air Force in between. It's my goal to make my decision on February 1st ."
The senior is rated a 5-star prospect from Chris Sailer Kicking, and is currently ranked 12th in the nation. This past season he was voted first team All-State by the Associated Press, after being named first team All-Narrows for the third straight season.
Bellarmine Prep has had a great run of success during Philichi's three varsity years, reaching the finals as a sophomore, semi-finals as a junior, and quarterfinals as a senior.
"The Lions are very proud of our 2014 season although it didn't end as we had hoped," Philichi noted. "Our highlight was beating highly ranked Kentwood and Camas on their fields in the state playoffs. We finally succumbed to Bothell who eventually won the state championship.
"We fed off of each other and I would not have wanted to play for any other band of brothers. We fought together, succeeded together, and in the end, went down together."
At the end of the day Philichi is everything you look for in a student-athlete, as he excels both on the field and in the classroom, sporting a 3.93 GPA with AP courses. He is a three year member of the National Honor Society, and is a founder of Digging Deep for Ethiopia, a non-profit group that in 2013 installed a well in Kersa, Ethiopia.
We wish Philichi the best of luck and will be sure to keep you updated as he heads towards making his final decision.