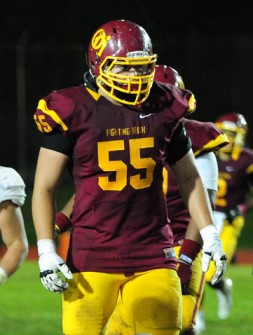 One of Washington's top offensive lineman made his commitment recently, when Majid Firoozi of O'Dea (Seattle, Wash.) gave the coaching staff at the University of California-Davis a reason to celebrate.
Firoozi was on his official visit and wanted to get things taken care of before he left town.
"I kind of knew that I was going to go to Davis already," Firoozi told NEI. "I just wanted to get down there and experience it first hand to see if it really was the place for me, and it was. On the last day I was with my mom and head coach (Ron) Gould in his office and we just talked about the visit and how it went.
"I told him that Davis is everything I was looking for in a school and I wanted to give him my commitment."
Aggie coaches Gould and Pat McCann have done an in-home visit with Firoozi, but this was his first visit to UC Davis, a school that many refer to as a "public Ivy" for its strict academic code resembling that of an Ivy League school.
"It was everything I wanted," Firoozi said. "Amazing academics, a developing program with hungry hard working players and coaches, great campus, great location, and its not to far away from home. There's nothing I wanted more in a college. It just felt like home."
The 6-foot-4, 255 pound bruiser was voted first team All-Metro for the second straight season, while also sporting a 3.4 cumulative GPA. The term "Student-Athlete" is something Firoozi takes very seriously, and at UC Davis he will have the opportunity to be both.
In the end Firoozi chose UC Davis over an offer from Air Force, while he was also hearing from the likes of Washington State, Idaho, Eastern Washington and Montana.
"Just want to say thank you to all my friends, family, teammates coaches, and God because with none of them, this isn't possible," Firoozi says. "I'm just thankful and blessed that my hard work was recognized and am given such a unique opportunity."
We wish Firoozi the best in the future and we will definitely be keeping an eye on him down the road.