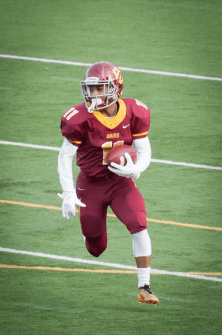 If we are referencing the most exciting players in the state of Oregon returning next season, JJ Wells (5-7 165 ATH 16′) of Central Catholic is one of the first names that comes to mind.
The shifty back cut and juked his way for over 1400 All Purpose yards and 15 TD's during the Rams state title run. Wells averaged over 10 yards a touch on the season, and showed that he was a threat to go to the house any time he had the ball in his hands.
JJ broke out in 2014, surrounded by the likes of Stanford bound RB Cameron Scarlett & top Junior's Brady Breeze and Ronnie Rust.
He cut and bounced his way to the end zone multiple times during the state playoffs, putting an exclamation point on a phenomenal year. Wells will most likely project as a slot at the next level but took a bulk of the carries out of the backfield.
JJ has the potential of being one of the most dominant 7 on 7 kids on the circuit. Get him in space and he is extremely difficult to stop. Expect to hear much more from the burner out of Central Catholic as the off season continues.