This past weekend the Barton Football Academy handed out the first Las Vegas 7-on-7 invites for athletes from Washington. 11 athletes received invitations on the day, and there are more chances for athletes to grab an invite before heading off to Sin City at the end of February.
Right now the next event is scheduled for February 1st, but will likely be moved to January 31st because of the Super Bowl. For more information, Click Here .
Below is a write-up of each athlete. To view highlight film from their most recent high school season, click their name.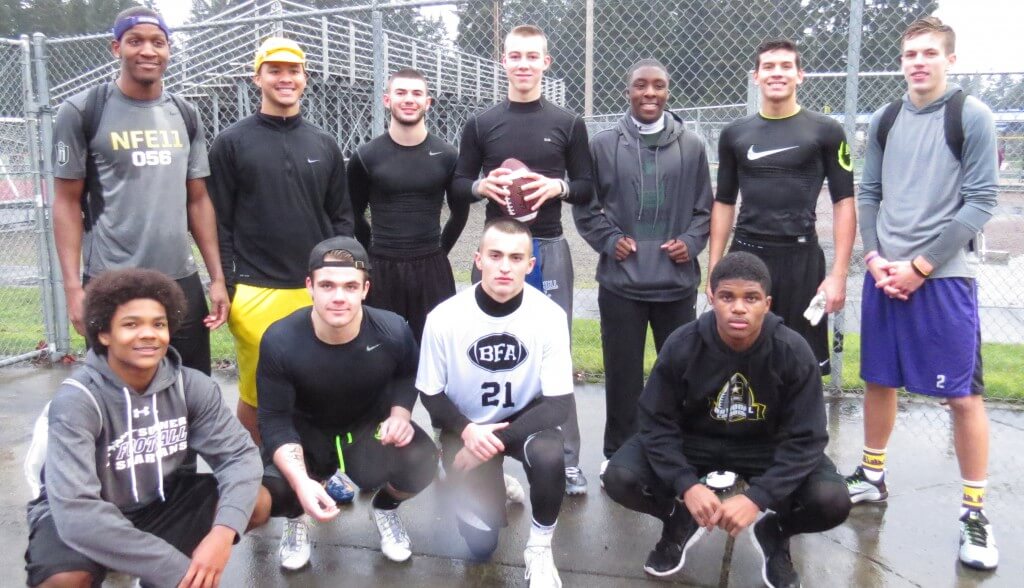 Tyson Penn, 6'5″ 200, WR Bellevue '16 – (Offer: Montana) Penn is a mismatch for any defensive back he lines up against. He is the reigning state champion in the High Jump and Triple Jump, with a season best 6'11" in the high jump, he gives Barton Football a true jump ball threat. Penn is more than just size, as he does bring good speed and an all-around good understanding of the position.
Justus Rogers, 6'2″ 210, QB Bellevue '16 – (Offer: Washington State) Rogers is seeing the more recruiting interest as an ATH/DB, but Las Vegas will give Justus a great opportunity to show he is a D1 quarterback. Justus is a hardworking athlete, with good arm strength and great leadership. Rogers is seeing interest from a number of Pac-12 schools, as well as the Big Ten.
Jacob Sirmon, 6'3″ 205, QB Bothell '18 – Sirmon likely takes over the QB spot for the defending state champs next season, and they will be in good hands, as Jacob is the next big QB name in the State of Washington. He has tremendous arm strength, accuracy, and understanding of how to play the position. The name Sirmon is known very well in the football world, and Jacob will look to make a mark at the leader of BFA's Underclass Team.
Connor Wedington, 5'11" 177, RB Sumner '17 – When all is said and done, Wedington will be one of the highest ranked RB's in Washington for the 2017 recruiting class. He is a Vegas veteran, having travelled last year, when he really began making a name for himself. Wedington has great speed to go with good hands, making him a versatile all-around back. He has a good frame to add weight and a tremendous work ethic. Look for Wedington to see a lot of action for the Underclass team.
Darreon Moore, 5'11" 160, DB Kamiakin '17 – Moore is also a veteran of the Las Vegas tournament, having starred on Team Washington Renegade last year. He will play with the Underclass team this year, and is expected to lock down one side of the field. Moore was a first team All-MCC and first team All-Area defensive back last season, and looks to be one of the top athletes in the 2017 recruiting class.
Jace Navejas, 5'9″ 160, WR/DB Kamiakin '16 – A teammate of Moore, Navejas is a tremendous all-around athlete, and could see time on both sides of the ball. In Las Vegas, you like to have speed on the inside, and Navejas brings plenty of that. He also shows great ability in coverage, and has more toughness than you would expect for a player of his size.
Gavin Crow, 6'1″ 200, DB Kamiakin '16 – Crow brings size and athleticism to the defensive side of the ball. He is athletic enough to play corner, but will probably play more safety in Las Vegas. Either way, his speed and versatility will be a valuable asset. Crow is one of three Kamiakin athletes that made the trip to Bellevue last week to train, and instantly made an impression.
Jesse Beringer, 5'10" 210, LB Bellevue '16 – 7-on-7 play, especially in Las Vegas, doesn't typically translate too well for linebackers. So to play the position, you must be very athletic and always on your toes. Beringer showed up to the Elite Event as a relative unknown, and walked out with an invite. He showed the ability to cover RB's out of the backfield, and will be a tremendous asset in the middle of the field.
Zach Smith, 5'10" 180, DB Capital '16 – You will not find an athlete with tougher luck on the playing field than Zach Smith. He has missed large portions of the past two seasons with injury, but he is healthy now, and ready to make a name for himself. When his game is on, Zach is a tremendous press corner, and he also has the speed and athleticism to turn and run. Smith is versatile enough he could also see time at safety, or even on offense if needed.
Tushon Barquet, 5'11" 180, DB Skyline '16 – Barquet is another athlete that showed up as a relative unknown, and ended up walking out with an invite. He has good size and speed, to go along with a tremendous ability in press coverage. This will be a great opportunity for Barquet to make a name for himself as he heads into his all important senior off-season.
Joe Nelson, 6'3″ 180, WR Issaquah '17 – Nelson has great size and athleticism that should make him a tough matchup. He is a tireless worker, and looks to be one of the top wide receivers in the 2017 recruiting class, after a good sophomore season. Joe should be one of the top targets for the Underclass Team.