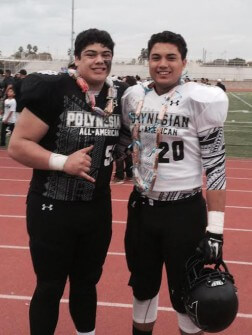 Big news out of the Northwest, as two of the state's top recruits for the 2015 class have made their intentions known, committing to Navy.
Pepe Tanuvasa (6-1 220 LB/FB) of Tigard and TJ Salu (6-2 285 DT/C) of Central Catholic are widely considered the top ranked recruits at their position within Oregon. Both kids had phenomenal senior campaigns, earning 1st team all league and all state accolades, while reaching the state title game.
The Polynesian All American's went toe to toe in the 6A state championship, with Central winning back to back titles in 2013 and 2014. Give a lot of credit to the Naval Academy who did their research and came away with two legit D1 athletes.
Speaking on the recent commitment Tanuvasa says, " I'm very honored by Coach Niumatalolo and the Naval Academy for the chance to play at this prestigious college". Adding, "I'm thankful for all the people who have helped me get to this point in my life, especially my parents and family, for raising me to be who I am today."
Pepe is young for the grade and will go on his two year LDS mission after he graduates high school. He will then start his division 1 football career, as close friend Salu will be eagerly awaiting his arrival.
Speaking on his commitment TJ added, " We talked about this decision a lot as a family and ultimately decided that going this route would benefit me a great deal athletically and academically". He continued," This isn't about the next four years, it's about the next 40, and Navy sets me up the best for my future."
Both kids had other D1 scholarship offers but their visit solidified what they wanted to do, as Salu says "Pepe and I went on our officials together last weekend, and we were both pretty blown away with Coach Ken Niumatalolo and the program he is running". Adding, "His goals are high as they are recruiting kids who are three inches away from being five star recruits, so there is a lot of unrecognized talent there."
Navy has gone (24-13) over the last three seasons and is one of the fastest rising programs in the country. They went (8-5) in 2014 and will build off of some key wins and close losses with Salu adding, "I think their success is evident with how competitive they have been against Notre Dame the last two seasons, while almost beating national champion Ohio State to start the year."
Both Tanuvasa and Salu come from incredible families, with D1 genes. You will not find a classier group of people. Each athlete stressed the importance of putting god first as TJ added, "I just feel beyond blessed that I am in this situation and I gotta give all glory to god."
Congratulations to each athlete and family. We will keep you updated as signing day draws near.