Click for Henry Cheney Highlights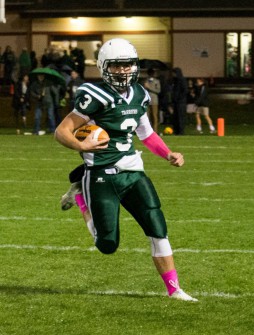 While at the end of the day he may spend his future on the baseball diamond, Charles Wright (Tacoma, Wash.) QB Henry Cheney is turning some heads on the gridiron.
Standing about 6-feet and weight 180 pounds, Cheney doesn't exactly pass the eye test as far as being a prototypical QB, but once you put on his film, it becomes evident he has the tools to play at a high level.
"Every Sunday I have the pleasure to watch one the best QB's in the NFL play for my favorite team," Cheney told NEI. "I try my best to pattern my game off Russell Wilson whether it is on the field or off the field. I love watching him and the way he plays is just the way I wanna try and play like on Friday Nights.
"The way he makes plays that have broken down into first downs is just crazy and almost uncoachable. He is such a great leader and has total command over the offense. My favorite move that Russell has perfected is the pump fake and that is one of the many things that I have to work on and use more."
Cheney has done all that and more through the past two seasons as the Tarrier QB, earning first team All-Nisqually, before being named second team All-Area by the Tacoma News Tribune.
Charles Wright finished 5-4 last season, but did manage to sneak into the state tournament after a thrilling week 10 win over Olympic Conference champion Port Townsend, a team that had thoroughly beaten the Tarriers the week before.
" We had to drive out to Port Townsend for the second week in a row and had a David vs Goliath like story<" Cheney said. "Charles Wright being David and 9th ranked Port Townsend being the Goliath, beating us by 43 the week before, playing on their home field, raining down hard perfectly for their run game and not so perfect for our offense."
"What most people don't know is that David practiced and practiced with his sling shot so that he could be prepared for his battle vs Goliath. It isn't all about small vs big but yet the repetition and practice, we had the best week of practice in our whole season, and just like it tells in the bible, David shoots a perfect shot with his sling shot and takes down Goliath. Just like we did in that playoff game vs Port Townsend and it was truly one of the greatest moments of my life."
Cheney is a three-sport athlete, also participating in basketball, so he will have some decisions to make before his high school days are over. At the end of the day, Cheney's best opportunity at the next level may come as a baseball player, where he is also a two time All-Nisqually League player, but he is aiming for a shot at both at the college level.
"I think that it would be an awesome experience if I could do both and that would be my goal," Cheney says. "I think one thing that has sports have taught me while playing three sports is that you always need to humble yourself. Playing three sports gives me the view of every player on the team and what everyone's role is.
"In basketball season I know what it feels like to not to play a whole lot. In football season I know what it feels like to play a big time position and to be a leader on the field. And in baseball season I know what it feels like to be a key role guy and hit in the middle of the lineup."
With the 2016 recruiting really beginning to take shape, Cheney will find himself in our QB rankings, and could very well end up on recruiting boards come next fall.