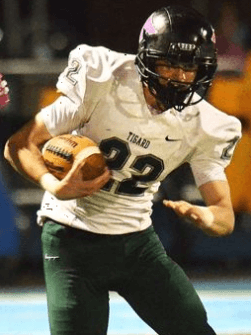 As signing day inches closer the state's top athletes start to make their intentions known.
Two of the biggest commitments to date came just a few short weeks back, when Oregon 6A Defensive Player of the Year Sam Inos & breakout 2014 athlete Tysen Prunty committed to Eastern Washington University.
Inos had been offered by half of the Big Sky & Idaho, while Prunty capitalized on a phenomenal season with offers from Eastern and Montana St.
Speaking on the decision Sam says, "I'm blessed to be continuing my football career at such a first class university". Adding, " It's great to be an Eagle and go play with one of my closest friends in Tysen."
Inos was ranked the top athlete in the state of Oregon for the 2015 class, also excelling offensively. EWU will have the luxury of using him at multiple spots.
Prunty was similar in that he left no doubt with his play on the field. He had as good a season defensively as any DB in the Northwest. His 107 tackles, 5 INT's, and 8 pass break ups were just a few of the statistical features that EWU loved.
Speaking on his decision Tysen says, "At first it was just a great opportunity to go down and meet with the school, but then to be offered a full ride scholarship and play with one of my close friends ..it is truly a blessing."
Tysen did not play football as a junior, and transferred from 4A Valley Catholic prior to the season. He is one of the most talented three sport kids in Oregon (basketball, track), winning a state title in hoops the year before. More than anything EWU loves his upside and see's his best years as being ahead of him.
In closing Prunty says, "Once I met with the guys and looked around the school I loved it, and knew this is where I wanted to extend my football career."
Inos and Prunty gave significant praise to the Tigard coaches and program. Their (25-2) record and two conference titles, covering the last two seasons, speaks to the teams dominance.
We wish both continued success as each represents all that is good about our student athletes.