NEXT BFA Elite Event- Sat 1/31 Southridge HS (3-5 PM)
Covering the last half decade this was one of the most impressive Barton Football elite events to date. Close to 20 future D1 projected kids battled, while seven other individuals were selected to be a part of the BFA Vegas 7 on 7 all star squad.
Congratulations to LaMar Winston who was offered by Oregon after the event, and now has the Beavers and Ducks vying for his services. Have a look at the Northwest's best.
* Most recent BFA 7 on 7 Selections
LaMar Winston 6-3 205 Jr. WR/OLB Central Catholic 16′– As referenced above LaMar was offered By Oregon Sunday evening. He will be ranked the top WR and OLB for the 2016 class, and should be a double digit D1 offer kid before all is said and done. Expect him to be a featured ESPN type athlete in Vegas.
Trevon Bradford 5-11 180 Slot Oregon City 16′– Oregon's #1 ranked slot receiver. He went for 20+ TD's, earning 1st team all league honors on both sides of the ball for the 2nd year in a row. Trevon is a D1 kid that grabbed his 1st offer from Montana St a few months back.
JJ Wells 5-7 165 Slot Central Catholic 16′– Wells is one of the fastest rising players in the region, and will test any DB with his cuts and acceleration. JJ broke out in 2014 going for 1300 all purpose yards and 15 TD's.
David Morris 6-3 200 Safety Sherwood 17′– Morris is one of the top Sophomores in Oregon and will be a conference and state player of the year candidate, over the next two seasons. He has legit D1 size and speed.
Alex Stickel 6-1 185 CB Sunset 16′– One of the most impressive athletes at BFA elite over the last month . He was an all league kid on both sides of the ball and will be one of the top players in the Metro in 2015.
Zach Houlemard 6-2 200 LB/Safety Jesuit 16′– One of the top defensive players in Oregon. Houlie has legit size and will be a three year starter, earning 1st team all league honors for a Crusader team that will be a state title contender next season.
Jakob Eisenbeiss 6-2 200 S/RB Sherwood 16′– Eisenbeiss was a TRL Player of the Year candidate in 2014 and is one of the state's top dual threat kids. He projects on D but is a 20+ TD guy offensively.
Current BFA Upperclassmen Roster
Oregon/ SW Washington-
Brady Breeze 16′ Central Catholic S (Committed: Oregon)
Elijah Molden 17′ West Linn CB (Offers: Oregon, Washington)
Cam McCormick 16′ Summit TE (Offers: Oregon, Ariz, Wash, Boise St)
LaMar Winston 16′ Central Catholic WR (Offers: Oregon, Oregon St)
Jordan Happle 16′ Jesuit WR/S (Offers: Montana St)
Trevon Bradford 16′ Oregon City Slot (Offers: Montana St)
Rey Green 16′ Evergreen, WA RB/Slot (Offers: Montana St)
Anthony Adams 17′ Newberg WR
Sam Noyer 16′ Beaverton QB
Mason Elliott 17′ Westview WR
Samori Toure 16′ Westview WR
JJ Wells 16′ Central Catholic Slot
David Morris 17′ Sherwood S
Alex Stickel 16′ Sunset CB
Zach Houlemard 16′ Jesuit LB/S
Parker Bull 16′ Aloha RB/LB
Jakob Eisenbeiss 16′ Sherwood LB
LINE
Top to bottom this was one of the most impressive BFA line groups in elite event history. Two of the state's best went toe to toe with top Junior Conner Crist (6-4 300 16′ T Tigard) and TRL Defensive Lineman of the Year Tony Kraus (6-3 235 16′ DE Canby) battling again. Oregon's top OL for 2017 Alex Forsyth (6-4 285 T West Linn) represented and tossed anyone in his way, while Anouson Keobounnam (6-4 280 16′ OL Centennial) had the breakout performance of the day, jumping on everyone's radar.
In one of the featured matchups of the event, two of the nation's top freshman went head to head, in Dawson Jaramillo (6-6 260 18′ T Lake Oswego) and Luther Salavea (6-3 285 DE Evergreen, WA). Both will be double digit D1 offer kids. Jay R Matia (6-3 250 16′ DE Evergreen, WA) is another one of the top defensive players in Washington and has multiple D1's close to offering.
Dallas Goodpaster (6-1 225 16′ Evergreen, WA) projects as a backer, but went with the lineman. He is one of the top wrestlers in the country and will lead Don Johnson's defense next season. Travis Mackay (6-5 240 17′ Central Catholic) was another breakout athlete that had a phenomenal day. He is the future of the Rams line.
Two of the top O lineman in the TRL and state for 2017 class came out and impressed in Scott Friedrich (6-2 265 17′ Newberg) and Jacob Lapointe (17′ Newberg). They will help lead a very good Tiger squad. Conner Maloney (6-1 210 17′ West Linn) returns after an all league season at center for the Lions, with Jakob Pruitt (6-3 255 16′ Valley Catholic) projecting as one of the top lineman in the state at the 4A level. He had as good a day as any lineman in attendance.
Neil Mccarthy (6-4 215 18′ Grant) will be one of the top players in the PIL in the years to come , and Brandt Waller (6-0 230 18′ Mt View) traveled from Bend once again, showing that he will be one of the elite youngsters in the IMC. Give a lot of credit to Max Freeman (6-0 260 17′ North Bend) who made the trip from the Southern Oregon coast. He will lead one of the better 4A programs in Oregon.
Others that did well include Michael Vance of Clackamas, Walter Dimm out of West Linn, and freshman Tyler Ganoung from Prairie who will be a factor in the GSHL.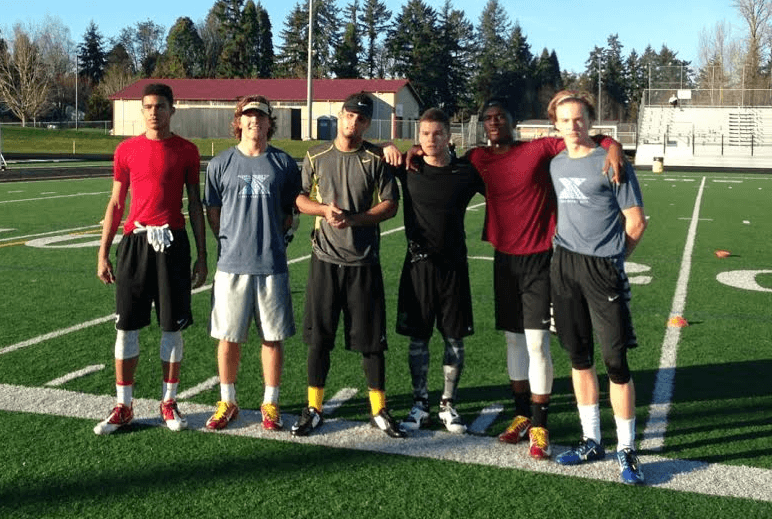 SKILL
Two of the nation's best gave receivers fits all day in Brady Breeze (6-1 200 16′ Central Catholic) and Elijah Molden (5-11 175 17′ West Linn). They were the first two kids selected as part of the BFA 7 on 7 all star squad and will be Oregon Player of the Year candidates next season.
Mason Elliott (6-3 180 17′ Westview) and Samori Toure (6-2 165 16′ Westview) are two of the most dangerous receivers in the region and will present match up problems for opponents in Vegas. Elliott could be the state's top sophomore wide out, while Toure went off this past season, earning 1st team all league accolades.
Bryce Bumgardner (6-2 175 16′ St Helens) is a kid that ranks towards the top of the charts on both sides of the football. He projects as a wide out after an all state season in 2014. Chase Cota (6-3 175 18′ South Medford) is the cousin of Duck commit Brady Breeze and could be Oregon's top freshman athlete. He earned 2nd team all SWC honors, something rarely done at such a young age. Trey Davis (5-11 170 17′ Central Catholic) continues to be one of the most impressive kids among all players, rarely getting beat in any fashion. Expect him to breakout in 2015.
The 5A classification level was once again well represented as Elijah Benedick (6-1 190 16′ Wilsonville) and Noah Dahl (5-11 175 16′ Silverton) both return from all conference seasons. Each will be player of the year candidates within their given league's in 2015. They will lead two of the most talented teams in the state, that should both rank in the top 5.
Jaydin Proctor (6-2 170 18′ David Douglas) will be a name to remember as he could be one of the best in the Mt Hood. He showed off legit size and versatility for such a young athlete. Three Sophomores who stood out include Marques Sampson (17′ Evergreen, WA), Ben Hoge (17′ Lincoln), and Brandon Doblie (17′ Lakeridge). Sampson went for 20+ TD's as a freshman on JV and is your ideal 7 on 7 athlete. Hoge could be one of the top players in the PIL next season, and Doblie can get it done on either side of the ball.
Jacob Calo (6-1 215 16′ Southridge) and Jason Rucker (6-0 170 17′ Westview) should be two of the better players in the Metro League next season. Calo earned all league honors in 2014 and Rucker continues to impress every week.
Cole Rumrill (6-2 170 17′ West Salem) is a talented kid, that continues to grind and impress at the elite events. Titan head coach Shawn Stanley is one of the best anywhere and the future is bright.
Other 5A kids that will be a factor include Trevor Sweet (16′ Pendleton) of Eastern Oregon who will team with talented QB Kai Quinn. Kaden Wadsworth (6-4 210 16′ Summit) has legit size and had a nice day. He will get plenty of opportunities opposite all everything athlete Cam McCormick, who will be double and triple teamed.
Trevor Thiessen (16′ Banks) is one of the top players in Oregon at the 4A level, having a monster 2014 season. Teammate Mitchell Merritt (16′ Banks) is another talented kid that will help the Braves be a conference and state title contender next year
Chase Lakin (16′ West Salem) showed up for the 2nd consecutive week and impressed, while DJ Hagler (17′ Eagle, ID) made the trip from Idaho and should be one of the better players out in that region in 2015.
QB
The Quarterback's had the luxury of working with two of the best QB's to ever come out of the Northwest in Taylor Barton and Alex Brink. Sam Noyer (6-4 200 16′ Beaverton) is ranked one of the top quarterbacks in the region and has been selected as the primary QB on the Vegas all star squad.
Wyatt Hutchinson (6-1 185 16′ Clackamas) and Chase Crawford (6-4 195 16′ Tigard) both showed up and had outstanding days. They will be considered two of the top quarterbacks in Oregon next season. Hutchinson came out of no where in 2014 and has benefited a great deal from his training with Brink. Crawford will get his turn next year as his upside is through the roof. His impressive performance versus LO last season, makes the Tigers a legit contender again.
Kyle Schwarm (6-3 195 16′ Stayton) will be a conference player of the year candidate and is a kid that could be a very good college QB. His overall athleticism speaks to his upside.
Freshman Wyatt Harsh (6-0 165 18′ Woodland WA) earned 1st team all league honors and had a storybook like season for a youngster. The kid is just a gamer. Fellow Washington QB Brandon Bea (6-3 215 16′ Evergreen, WA) is a big kid that can sling it. He is another talented quarterback that will get an opportunity next season.
DJ Dalzell (17′ Lakeridge) started at slot last season for the Pacers, and did a very good job. He threw with the QB's but projects as more of an athlete.
Young QB Austin Davis (18′ Barlow) looks the part and then some for a freshman. He will be the future of the Bruins program.
Three other QB's that will have an opportunity to lead next year include AJ Knotz (16′ Southridge), Dillon Stott (16′ Glencoe) and Noah Spear (16′ Mt View). All three hit their targets for the most part.
Last but not least was the 12 year old from Murrayhill JJ Woodin (21′ Southridge), who has come out and balled with the big boys for the last three weeks. His overall ability and work ethic now put him in a special class later down the road.
RB
Easily one of the most impressive RB groups that you are going to find. Conner Mitchell (5-9 190 16′ OC/Lake O) and Jason Talley (6-1 200 16′ Jesuit) rank as two of the top three backs in Oregon for the 2016 class. Mitchell has been a 1st team all league kid for the last two seasons, going for over 3000 total yards and 30 TD's in 2013 & 14 combined. Talley has legit size, D1 genes, and will be the featured back on a very talented Crusader team next season.
Rey Green (5-11 195 16′ Evergreen, WA) already has two D1 offers, with more on the way. He pulled a hamstring early in the day but will be one of the top players in Washington. Parker Bull (5-11 195 16′ Aloha) was selected to Vegas during week 1, and will be a Metro League Player of the Year candidate. One of the elite backs in the Northwest that people might not know about yet is Michael Abraham (6-2 210 17′ Central Catholic). The Sophomore was hurt last season, but will be dominant in the years to come.
Colin Hyatt and Conner Morris both earned all TRL honors last season and will be two of the top returning backs in the conference. Hyatt has had a phenomenal month, going for close to 1000 yards during the season, while Morris will be one of the top RB's in the 2017 class returning next year.
Two other sophomores that will be featured athletes within their conference are Keonte Mcmurrin (17′ West Salem) and Perry Davis (17′ Silverton). Mcmurrin has legit quicks and has been a standout at the BFA events for the last two years. Davis was one of the three sophomores playing varsity ball for the #1 ranked Foxes last season.
LB
Another group littered with talent up and down the board. Mike Petroff (6-2 220 16′ Jesuit) has the potential of being the top linebacker in the state of Oregon for the 2016 class. He will be a three year first team all league starter for the Crusaders. Sam Chitty (6-1 210 16′ West Linn) earned 1st team all league LB honors for the Lions this past season and should be considered a TRL Defensive Player of the year candidate next year.
Cody Brown (6-4 235 16′ Sunset) returns after an all conference season and has a ridiculous upside with D1 genes to boot. Kaelin Himphill earned 1st team all NWOC honors and will be one of the best in Oregon at the 5A level, while DJ Roberts (6-0 235 16′ Evergreen, WA) is back after two impressive all conference seasons for the Plainsmen.
Two of the GVC's best had outstanding elite events. Davis Carter (5-11 205 16′ South Salem) earned 1st team all league honors in 2014 and was one of the state's leading tacklers. I can't say enough good things about the month he has had. Kolby Barker (6-3 215 16′ McNary) started last year for the Celts, has legit size, and looks the part.
You can expect Malakai Salu (6-1 205 18′ Central Catholic) to be one of the top ranked sophomores in Oregon following in his brothers foot steps, with Donnie McClain (16′ Banks) continuing his impressive weekly performances.
Malik Newton (6-1 215 16′ Lakeridge) had an outstanding junior campaign and should be a big factor in the TRL next season, with 1st team all league senior LB Jackson Davis (6-1 220 15′ Wilson) still getting in the mix.