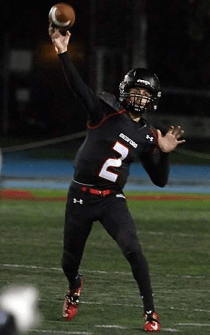 This week North Medford standout Quarterback Troy Fowler (6-0 185 15′) will give his commitment to NAIA National Champion Southern Oregon University. Fowler was a three year starter and the 2013 SWC Player of the Year. Over the last two seasons he has thrown for 63 TD's and 5700 yards, finishing as one of the all time Black Tornado greats.
Speaking on his high school career Troy says, "The turn around that my class accomplished at North Medford was unbelievable". Adding, "My freshman and sophomore year we were a combined (3-18) and our group took it upon ourselves to change that."
During each off season double digit North athletes would travel to Portland for the BFA Elite Events, sparking what ended up being one of the most impressive reversals for any team to date. Fowler continued, "Coach Mitchell put an outstanding staff together and we bought into his ways, going (20-5) over the last two years and earning respect throughout the state."
As most know SOU torched opponents all year long and convincingly dominated the country at their level. Referencing his commitment Troy says, "Having the chance to play for an NAIA national champion is amazing". He continued, "They are doing some awesome things there and in the next couple seasons they will have some of the best facilities around."
What Coach Craig Howard and his staff have done at Southern in such a short period of time has been remarkable, with Fowler saying, "I'm excited to be a Raider and a part of Coach Howard's program, as they are bringing in one of the top recruiting classes in the country at the NAIA level."
We have gotten to know many within the North Medford football community and genuinely can't say enough good things. Troy has been the standard when referencing class kids and everything you would want in a leader.
In closing he adds, "The Barton Football Academy has done so much for me and my teammates over the years, which is a big reason why we at North Medford were successful."
Fowler and his guys put in the work and have earned everything that has come their way. We will keep you updated as the Southern Oregon star will keep his talents close to home.