Over the last two seasons Western Oregon has put together two of the better D2 recruiting classes nationally.
The 2015 group solidified what many expect to be the biggest and best class ever, with head coach Arne Ferguson saying, "Its a great group at each position and it should complete the best class in my 29 years at WOU." (10 as a head coach)
Five offensive lineman and two tight ends average 6-5 1/2 for the Wolves incoming freshman. They will add multiple 1st team all league and all state skill kids, which includes two time Metro League Offensive Player of the year Austin Brisbee of Westview.
Western will once again play one of the more difficult non conference schedules, with Portland St (Week 4- Sept 26th) and traditional D2 power North Alabama coming to town October 10th. WOU lost 45-38 to Big Sky PSU last year and feels good about their chances going into next season.
They will need to replace four very talented kids who will get an NFL or professional opportunity, but the overall program and combination of athletes has never looked better in Monmouth.
Talent aside you would be hard pressed to find a better group of coaches who consistently take care of their kids. Expect Western to be a conference title favorite in the coming seasons as the program continues to rise.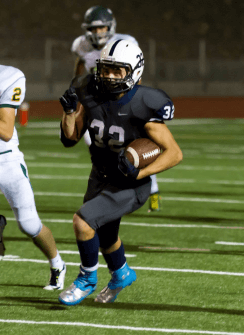 ***Late NLI Additions
On Friday WOU came up big adding three of Washington's top senior athletes to their recruiting class. Austin Urlacher (5-10 190 Chiawana WA) became the state's all time single season rushing leader in 2014. He is a (4.4) 40 kid as the last name speaks for itself.
Shawn Munro (6-1 225 Bothell WA) was one of Washington's top LB's. He will join teammate Tyler Wharf after winning the state title and finishing ranked one of the top 25 teams in America.
Lynnwood's Malik Braxton (5-11 185 Meadowdale WA) was the third D1 level kid that the Wolves grabbed late. He can be your primary back, play out in the slot, or return the kicks. He is an incredibly versatile athlete.
QB-
As referenced above Austin Brisbee (6-3 175 Westview OR) was the two time conference player of the year, throwing for over 3500 yards and 40 TD's. Brisbee hit on close to 70% of his passes and is one of the biggest steals in this years group. Ty Currie (6-2 195 Yreka CA) did a phenomenal job in Northern Cali and they are excited to have him.
RB-
Handsome Smith (5-9 170 Gladstone OR) returns after winning player of the year honors and a 4A state title to boot. He can come up and smack you on D, but projects offensively.
Another 4A Oregon talent was found down South in Jordan Hannah (6-0 200 North Valley OR). He had a great senior campaign leading the league in multiple statistical categories. Ikaika Piceno (5-9 190 Hawaii) rounds out the backs, as he is the brother of current WOU WR Keoni Piceno.
WR-
The Wolves got a huge pickup with the signing of Devon Fortier (5-10 175 Canby OR), who is maybe the fastest kid in Oregon. He will run track and play football. Jalen Roman (5-11 175 Windsor CA) was another burner that they got out of Cali as they expect him to contribute early.
Dylan Morgan (5-11 170 Crater OR) was a two time all league WR and the brother of Arizona safety RJ Morgan, while Ian Lundberg (6-2 190 Damien HI) is another talented kid coming over from the Hawaiian Islands.
TE-
On the tight end front Western couldn't be happier, landing kids with size and outstanding overall athleticism. Mt Hood Conference standout Caleb Dalzell (6-6 240 Gresham OR) flew under the radar and has the ability to play multiple spots.
They are also stoked about two additional out of state big men, in Dylan Gilfoy (6-5 195 Liberty CA) and Caleb Tingstad (6-3 230 Meadowdale WA). Gilfoy is a dual sport kid that excelled in Volleyball with his leaping ability matching anyone. Tingstad was one of the better Washington athletes for the 2015 class.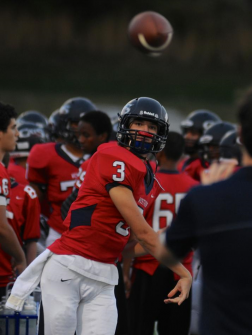 OL-
Josh Manning is widely considered one of the top line coaches and recruiters nationally. He did a phenomenal job of landing commitments from a bunch of D1 level kids with size. Justin Sattlemaier (6-7 295 Temecula Valley CA) played for an under achieving HS team in California and should play early. Big man Aaron Turner (6-6 260 Gresham OR) has maybe the biggest upside of any lineman, playing with a no nonsense demeanor. He will thrive under Manning.
Three other small town kids should contribute relatively early. Michael Johnson (6-4 300 Pleasant Hill) was a 4A 1st team all state kid, while Thomas Smaley (6-4 250 Sutherlin OR) and Josh Brown (6-6 245 Colfax WA) project at the tackle spots. Each has legit size and will add to their frame. Brendan Jackson (6-1 275 Casa Grande CA) should come in and compete at the center position.
DL-
On the defensive line Miles Lockett (6-0 265 Bothell WA) could end up being one of the best to ever come out of WOU before he is done. He is ranked one of WA's top lineman and comes lightning quick off the ball.
Ryan Davis (6-1 300 Crater OR) is a kid they are all excited about. He has the potential of playing right away. Sage Delong (6-4 220 Vale OR) was a 3A Oregon Player of the Year candidate and has a big upside, with his teammate Kyle Yraguen (5-11 270 Vale OR) being a presence in the middle.
LB-
Give credit to the WOU coaching staff for going and getting some top out of state talent. Tyler Wharf (6-3 225 Bothell WA) has legit size, fly's to the ball, and helped the Blue Train win a state title.
Joey Roos (6-3 180 West Albany OR) was a 1st team all state safety and could likely move into the weak side linebacker spot with his size. Roos was one of the top overall players in Oregon.
Parker Layton (6-3 200 Ashland OR) was a 2nd team all state backer and a standout on the BFA 2014 Vegas squad. Andrew Weber (6-1 205 Vale OR), Isaiah Cassidy (6-2 220 Berkeley CA), and LB/Long Snapper Matthew Keogh (6-2 230 South Anchorage AK) round out the group.
DB-
A big strength in this class came from within the secondary. Five of Oregon's top DB's signed, as the Wolves have to feel good about their future defensive backs.
1st team all league athlete Chris Adamo (5-10 175 Mt View OR) is a lockdown corner and ranked in the top 3 state wide, while Derek Parnell (5-9 175 Southridge OR) was a two time all conference kid and one of the top defensive players in the Metro.
JT Valenzuela ranked as high as the state's #2 safety, earning defensive MVP honors in Vegas as part of the BFA group last season. He earned back to back 1st team all conference accolades.
Southern Oregon standout JC McKinley (6-1 185 Grants Pass) was a big pick up, and one of the top dual threat kids state wide. Local talent Isaiah Kerlegan (5-11 180 South Albany) clocked one of the fastest 40 times in the region and puts an exclamation point on the position.