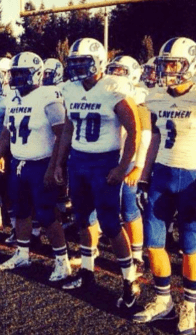 One of the Northwest's top lineman for the 2016 class is Anthony Del Toro (6-3 270 Jr. DT/T) of Grants Pass. The kid out of GP had an outstanding 2014 campaign, earning 1st team all state and conference player of the year accolades.
Del Toro helped GP win the SWC title, finishing (11-1) on the year. The Cavemen graduate a talented senior class but look to be returning to the days of old. Anthony has legit size and moves incredibly well for a big man. He projects at the D1 level as you can expect a host of universities to be visiting Southern Oregon in the coming season.
Anthony showed up at the Barton Football Elite Event a few weeks back in Portland and went
head to head with the likes of Conner Crist (6-4 300 16′ T) and Derek McMurray (6-7 350 16′ T) of Tigard.
Speaking on the past year Del Toro says, "We played very well as a team and it was an overwhelming feeling getting player of the year honors." The big man racked up 48 total tackles and 3 sacks on the season, requiring a consistent double team from most opponents.
Grants Pass had a special year and will be in the SWC title hunt again next season. Give credit to head coach John Musser who has the program back on track. We will keep you updated on the talented kid from down South as the off season progresses.