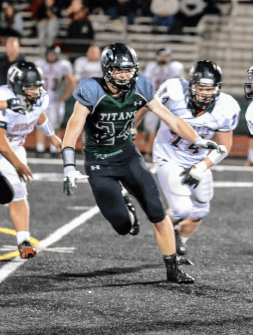 A name you will hear often heading into the off season is Jacob Kizer (6-5 235 16′ DE/TE) of West Salem. This past week the 1st team all state athlete got good news, with one of the countries top D1aa's extending their first offer in Montana St.
Kizer had a phenomenal junior campaign, helping his Titans to the state semifinals before falling to Tigard late. He could very well be one of the most recruited kids in the west before all is said and done, as you cant teach his combination of size and speed.
Give credit to MSU and Coach Cody Kempt for getting in the mix early, on an unquestioned high profile D1 kid. Referencing the offer Kizer says, "I'm very thankful and excited to have received my first offer, and just ready to work hard this off season and prepare for next year."
Jacob plays for one of the state's top coaches in Shawn Stanley. The trend continues at West as they consistently produce some of the top recruits in the region. Kizer could very well go down as one of the best to ever come out of the Salem area.
He will be a featured athlete on the BFA Oregon Elite team, that will travel to Las Vegas in a few weeks for the national 7 on 7 tourney. Expect to hear much more from the GVC standout in the coming months.