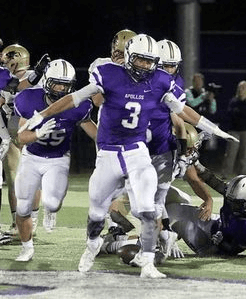 Oregon's breakout player of the year this early off season could be Alex Stickel (6-2 180 WR/DB 16′) of Sunset. The Metro League standout earned all conference honors on offense, defense, and special teams in 2014. His dominant performances at the BFA Elite Events over the last few months have put him on the map.
Stickel has competed with the best of the best from within the region, earning praise from coaches and players alike.
Speaking on some of his goals moving forward he says, "I want to challenge myself more than I did last year cause I wasn't sure what I could do, and now I clearly know." He continued, "BFA has been a blessing in disguise, I have learned so many new things and really improved my overall game .. It's hard to put into words what it has done for me."
Alex has shined from his DB spot, locking up some of the state's top receivers. He will come back as a conference player of the year candidate, also excelling offensively. Stickel will play for talented 2nd year head coach Damien Merrick and Oregon HS coaching great Faustin Riley. They will continue to use his services on the regular as he has taken his game to another level.
The Oregon /SW Washington BFA team will travel to Las Vegas next week for the national 7 on 7 tourney. You can expect this group's secondary to potentially be the best to ever represent the Northwest. Duck commit Brady Breeze, nationally ranked corner Elijah Molden, and standout sophomores David Morris and Anthony Adams will join Stickel in the defensive backfield.
We will keep you updated on the talented two way threat as the off season progresses.