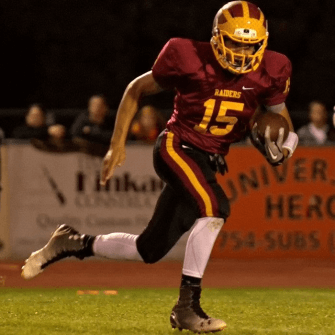 It's rare for any 9th grade athlete to be playing Varsity sports, much less starting in two. Crescent Valley's Talanoa Hufanga (6-0 170 QB/DB 18′) can be considered the exception to the rule as he was the Raiders starting QB, and now a featured member of the basketball team.
Hufanga looks to be one of the top overall athletes in the West for the 2018 class. His brother T.J. is a D1 LB and a current member of the Oregon St Beavers.
Talanoa originally attended 3A Santiam Christian and was noticed while at a Barton Football Camp and Combine as an 8th grader. His Underclassmen MVP award at the event and his overall dominance against kids 2-3 years older turned heads.
Head coach Scott Sanders had another freshman phenom a few years back with his son Tanner. He too started as a 9th grader for CV before moving into the starting quarterback role and signing with OSU.
You can expect Hufanga to be a 5A conference and state player of the year candidate in the seasons ahead, as he exemplifies what many call the "it" factor.