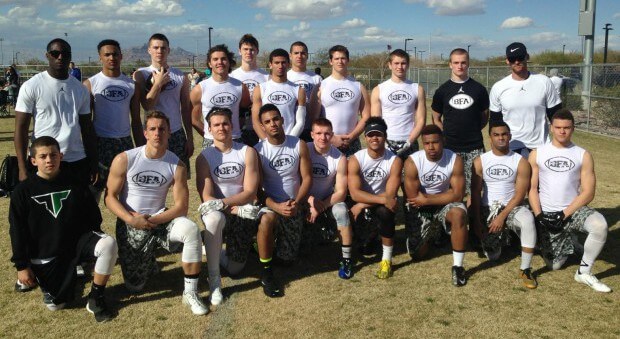 POOL PLAY
BFA Oregon 13 San Jose, CA 6
Los Alamitos CA 8 BFA Oregon 6
La Vegas NV 7 BFA Oregon 6
PLAYOFF ROUND
BFA Oregon 20 Rancho Cucamonga CA 0
BFA Oregon 12 Oakland CA 8
BFA Oregon 13 Hawaii 7 (808 Elite)
BFA Oregon 26 Central Valley CA 12 (Sweet 16)
BFA Oregon 19 BFA Washington 6 (Elite 8)
Bishop Gorman (702 Elite) 26 BFA Oregon 13 (Final 4)
STATISTICS
TD's
Samori Toure 5
Rey Green 5
Trevon Bradford 5
Jacob Kizer 2
JJ Wells 1
Bryce Bumgardner 1
Anthony Adams 1
TD Passes
Sam Noyer 20
INT's
Alex Stickel 4
David Morris 2
Brady Breeze 2
Elijah Molden 1
Anthony Adams 1
Barton Football has been representing the Northwest in Las Vegas for the last five years at the 7 on 7 national tourney. This past weekend will be tough to beat.
BFA Oregon and BFA Washington met in the elite 8 of a 100+ team tournament in what amounted to the best showing of any team, or teams, in the region's history.
Each group dropped a couple close ball games in pool play, before going on an unprecedented run, with BFA Oregon winning the quarterfinal matchup 19-6 and advancing to the final four.
Oregon beat two undefeated teams out of Oakland and Hawaii, before meeting the BFA Washington squad in the final 8. It was a memorable day, with the group finally getting up ended by last years national high school champion Bishop Gorman (702 Elite).
I cant say enough good things about the Oregon BFA group. It was a Sunday run (5-0) that will be talked about for some time. Have a look at the most successful Northwest team to ever come out of the Pylon Sports 7 on 7 Vegas tourney.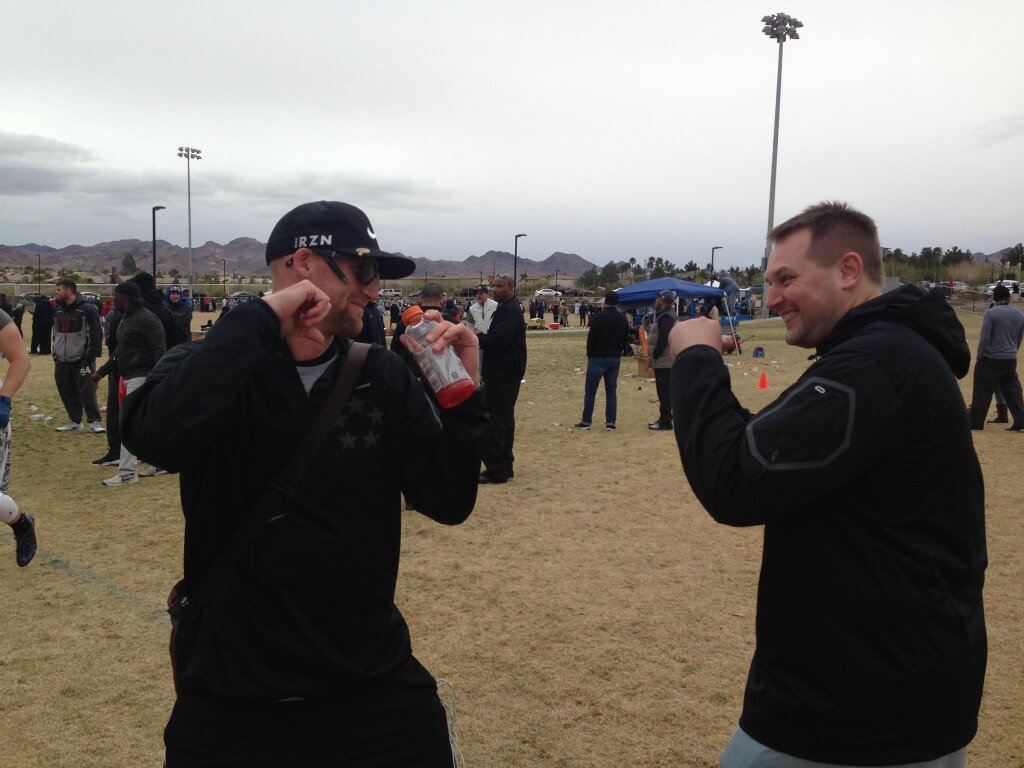 Quarterback
Sam Noyer (6-4 200 16′ Beaverton) stepped up and confirmed that he will be a legit D1 QB. The state's top 2016 quarterback could have multiple offers in the relatively near future. He went for 20 TD's in the air, with 16 coming on the second day.
Noyer was poised and incredibly accurate as the tournament progressed, working well with BFA head coach Alex Brink who says,"Outside of the defense, Sam was the biggest reason we made it to the final four… I'm blown away by his leadership and ability to handle pressure situations". Adding, "He was lights out on Sunday and showed why he is deserving of offers right now."
He hit 7 different receivers for TD's and presents intangibles you can't teach. Noyer was rewarded with all tournament honors by 247 Sports to finish the weekend.
Running Back
The kid out of Vancouver was clutch. Rey Green (5-11 195 16′ Evergreen WA) caught 5 TD passes coming out of the backfield, showing that he was one of the top kids at the position in the tourney.
Green holds offers from Big Sky D1aa powers Eastern Washington and Montana St, and came up big on multiple catches, tying for the team lead in TD's. Look for Rey to be one of the most recruited backs in the West
Wide Receivers
Both Samori Toure (6-2 170 16′ Westview) and Trevon Bradford (5-11 180 16′ Oregon City) had phenomenal weekends. Bradford will be an Oregon player of the year candidate next season, having one of the most impressive Sunday's of any athlete in attendance. Trevon didn't drop a ball on day two, and finished tied with Green and Toure at 5 TD's in the tourney.
Toure's stock has risen significantly, after multiple acrobatic catches and an all tournament type performance that won't be forgotten for some time. Overall the 1st team All Metro WR played as well as any Oregon player on the roster.
We all have a new found respect for JJ Wells (5-7 165 16′ Central Catholic) who is one of the most exciting players in the region. The burner out of CC backed down from no one and made multiple catches, which set up scores. He also caught a 26 yard TD pass against Central Valley, California.
Two other kids who didn't disappoint and will be two of the top players in the state at the 5A level are Bryce Bumgardner (6-1 170 16′ St Helens) and Elijah Benedick (6-1 180 16′ Wilsonville). Bumgardner hauled in a couple big time throws and scored a TD late to help beat the Valley kids out of California.
Benedick could be one of the biggest sleepers state wide as his route running ability before and after the catch is very apparent. Elijah had an outstanding second day and should be considered a top NW receiver.
Tight End
1st team all state athlete Jacob Kizer (6-5 235 16′ West Salem) showed why he is one of the fasting rising recruits in the West. The kid out of Salem presented consistent matchup problems for defenders with his combination of size and speed.
He caught two TD's on the weekend, none bigger then his grab versus Hawaii late, to help seal the 13-7 win.
Corners
Defensively I don't even know where to begin. As a group the D allowed 6.75 points per game , with 10 total INT's coming from the secondary heading into the final four.
Elijah Molden (5-11 175 17′ West Linn) showed that he could potentially be the top corner in the nation for the 2017 class. He is that good. He locked up and frustrated each receiver that he faced before going down with an injury at the end of day 1.
Opposite Molden was another one of the NW's top Sophomores in Anthony Adams (6-0 170 17′ Newberg). He went on lock down mode from his corner spot, allowing only two complete passes in 9 games. The first team all TRL DB showed that he is an unquestioned D1 kid.
Alex Stickel (6-2 180 16′ Sunset) continued his off season tear, leading the team in INT's with 4, while backing up the hype. His play during the playoff round was crucial, with Molden going down the night before. I can't say enough good things about Stickel.
Safety
As good as the corners were the safety's matched their play. Oregon commit Brady Breeze (6-1 200 16′ Central Catholic ) earned 1st team all tournament honors as presented by 247 Sports. This came with 100+ teams in attendance, putting his dominant play into perspective.
Breeze had a presence in the secondary that you can't teach, patrolling the field and leading the group with his play and overall leadership.
In my opinion David Morris (6-3 200 17′ Sherwood) will be one of the most recruited 2017's on the West coast. His performance over the weekend solidified his projection, as he will be a double digit D1 offer kid at the highest level. Both him and Breeze had 2 INT's, with David having maybe the pick of the tournament.
Zach Houlemard (6-2 200 16′ Jesuit) had one of the most impressive performances of the event. He was in the mix on multiple occasions, breaking up passes and locking down receivers. He will be a Conference Player of the Year candidate and one of the top defensive players in the state.
Linebackers
1st team all Metro LB Mike Petroff (6-2 220 16′ Jesuit) showed that he was an incredibly versatile and athletic backer. His ability to track down and guard much smaller and quicker RB's was key in multiple close wins. He will be ranked one of Oregon's top LB's.
Parker Bull (5-11 190 16′ Aloha) stepped up big all weekend and showed why he will be a Metro League player of the year candidate. Bull played multiple spots and filled in nicely for Petroff when he went down with a swollen knee.
The other Bowmen standout Jakob Eisenbeiss (6-2 200 16′ Sherwood) played some backer and safety. Eisenbeiss broke up multiple passes in the 2nd, 3rd, and 4th round games to help grab the win. The Sherwood standout will be one of the best in the TRL.
Thoughts from BFA Oregon Head Coach Alex Brink…
Although the offense started slow on Saturday they found another gear on Sunday.. Every single guy contributed in some way.. I was impressed with how Trevon Bradford and Samori Toure lit a spark early on the second day to help get things going.
What the defensive unit accomplished over two days in Vegas was nothing short of incredible.. Holding multiple teams below 8 points in a 7 on 7 tournament, is next to impossible, especially with the talent they were playing against.. The entire defense and specifically the secondary were the main reason we reached the final four.
Overall this team's performance validated exactly what I thought.. These guys are talented, smart, tough football players who can compete with anyone.. It proves what we already knew, which is that the Northwest is rising quickly when it comes to football talent. I couldn't be more proud of what they accomplished on the biggest 7 on 7 stage in the country.