Click for Parker Dumas Highlights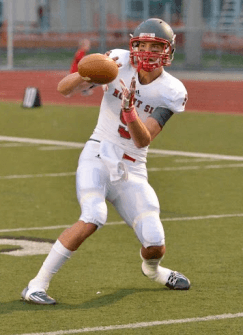 Great news from Snoqualmie where Mount Si WR Parker Dumas ('16) picked up his first offer when the University of Wyoming made their intentions known.
"It was a surprising and very exciting day," Dumas told NEI. "All my hard work is starting to pay off and I cant wait to see what the future holds."
Surprising is a great way to put it, as Dumas was eating lunch during what seemed like any other day in the Cascade Foothills.
"Coach [Charlie Kinnune] yelled across the lunch room for me and told me to fallow him," Dumas said. "We went out back of the school and he got off the phone with Coach [Pete] Kaligis from the University of Wyoming. He then stuck his hand out and said, 'Congratulations the University of Wyoming is offering you.' "
The offer comes on the heels of a big weekend in Las Vegas with his Barton Football team that made a run to the Elite Eight of a 101 team National Tournament.
Standing six-foot-five and 200 lbs, Dumas was a mismatch all weekend. He used his size to create space, but it was his tremendous all-around athleticism that really stood out, as he was one of the top receivers in the tournament.
"My experience in Las Vegas was great," Dumas noted. "I have never played in competition that high and I loved battling out games with all my teammates to make it to the elite eight."
This could be the first of many offers for Dumas, who is also hearing from schools across the Big Sky, Pac 12 and even in the SEC. Dumas doesn't currently have any visits set up, but is planning on taking an unofficial visit to Wyoming in the near future.
For now Dumas is focused on getting ready for his senior season, as he looks to improve on a first team All-Kingco award last season.
We wish Parker the best of luck moving forward, and will be sure to keep you updated on future offers and his ultimate decision.