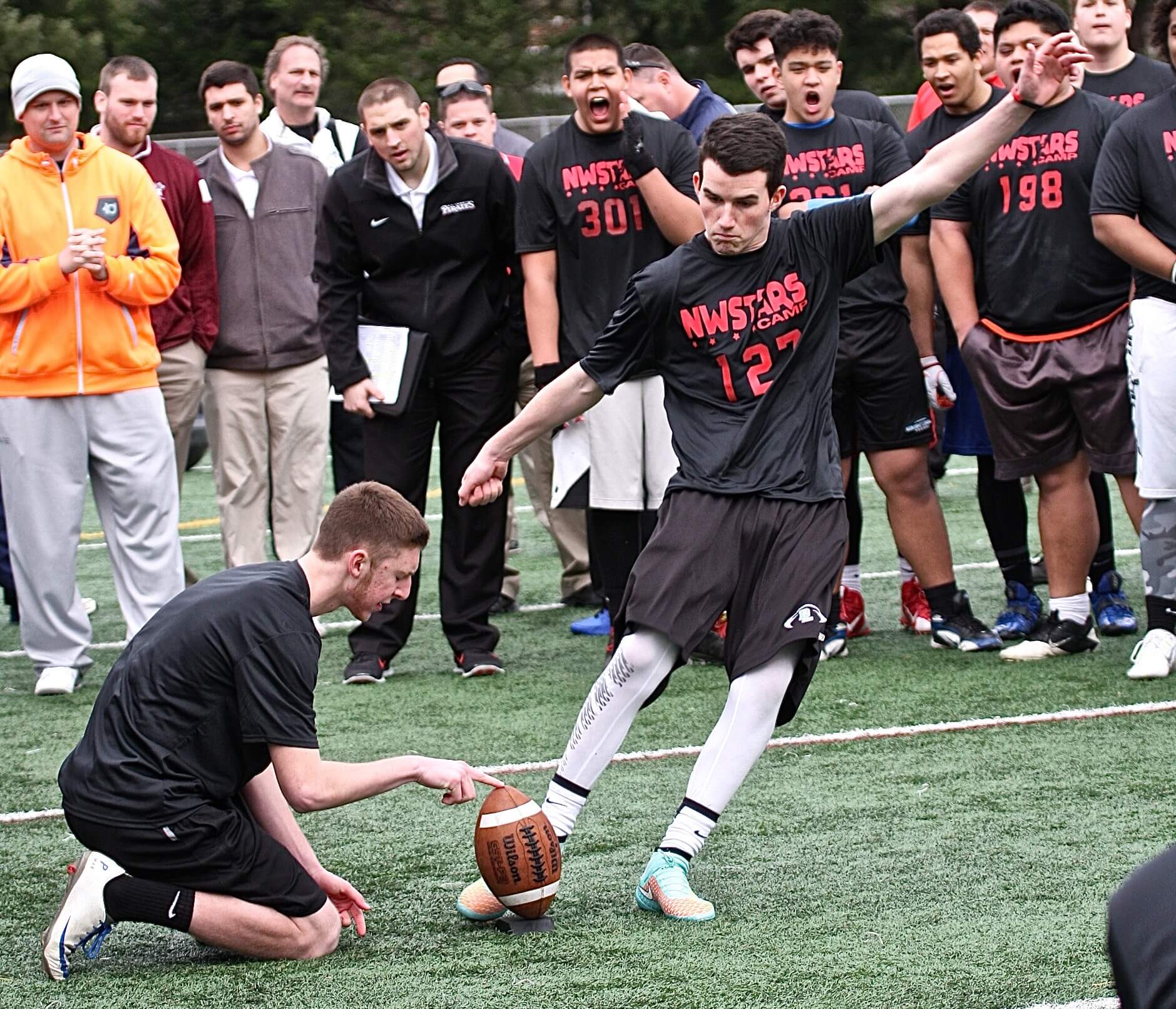 The 2015 Winter NW Stars Camp Special Teams session was full of talent. There were a total of 20 specialists on hand with many turning heads from the college coaches.
When it comes to evaluating talent, I feel confident with just about every position. One place where I admit little expertise is in the specialists. I can tell you what guys have big legs and what guys can put a long snap on the money, but when it comes to projecting and the mechanics of it all, I give way to Barton Football Specialist coach Matt Wigley.
Wigley trains locally, so if you are looking to train privately, contact me and I will point you in the right direction.
The following is a breakdown of the event from coach Wigley.
Kickers
2017 K/P – Kyle Sentkowski from Blaine HS and 2016 K/P – Jack Crane from Skyline HS were the top underclassman of the day as they both showed tremendous accuracy and power. Sentkowski might just be the top kicker in the state of Washington and could possibly end up being the #1 kicker in the country by the time he gets into his senior year with continued hard work over the next couple of years.
Of the 2015 class, Kicker Devon Tandberg from Auburn Mountainview HS came out and showed that he has what it takes to kick at the next level next season. This kicking prospect showed great accuracy throughout the day and looks like he will continue to grow as a kicker and be a productive kicker at the college level! Notable kickers from the day are 2016 K/P – Chris Schramm from Liberty HS and 2017 Kicker – Nicholas Phillips from Sumner HS. Both showed a lot of promise in the kicking world and there's no question that with a lot of hard work that they are able to make a big name for themselves over the next few years.
Punters
2015 Punter – Anthony Louthan from Montesano HS came out and put on a great show. Kid has lots of power and showed great consistency with punts. Louthan even participated in the snap-hold-kick operation and proved he can be a trust worthy holder.
2016 Punter – Max Skladany from Rogers HS was another very impressive punter who also showed skills at the holder position. When this kid is on, sky is the limit! With a little fine tuning with his technique, he could make a very promising name for himself in the Northwest. Notable punters throughout the day are 2016 Chris Schramm and 2016 Tyler Schweitzer from Skyline HS.
Long Snappers
The 2016 class looks very promising as Caleb Mitchell from Mount Si HS, James Workman from Liberty HS and Zach Jacobs from Tigard HS(OR) came out and showed they have what it takes to make an impact at the next level. Mitchell just might be the most athletic long snapper in the country within his class. Kid is lightning quick and will be a threat down field in coverage. Workman has tremendous build with a good head on his shoulders. Showed great accuracy and a phenomenal blocker after his snap. Jacobs is a big body that has great form and shows a lot of promise at the long snapping position.
Other notable long snappers throughout the day are 2017 Long Snappers Blake Bostwick from Mount Si HS and Calvin Maher from Bellarmine Prep HS. Both showed great form and consistency. Both will continue to grow and will become some of the top snappers in the Northwest over the next couple of years. 2015 Long Snappers Jackson Wilder from West Seattle HS and Tanner Stracener from North Kitsap HS both showed great velocity on their snaps. Both are receiving college interest and will only continue to grow.