Click for Donte' Hamilton Highlights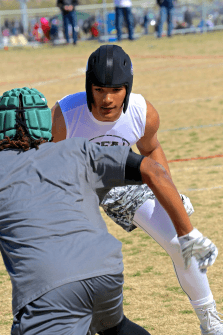 One of Washington's top defensive backs from the 2016 recruiting class is Donte' Hamilton of Kamiak (Mukilteo) High School.
Last season, Hamilton finished with 52 tackles, 3 INTs, a forced fumble, recovered fumble and one defensive TD. All in all he helped the Knights to a 7-3 record on way to being selected first team All-Wesco.
Hamilton's focus hasn't always been on football, and it really hasn't been a top priority until the last year or so.
"I wish I would've saw what other people saw in me," Hamilton told NEI. "I didn't realize I had potential to be a good football player until after my sophmore year. That's my biggest regret."
During the 2014 offseason he began training with an extra focus on football, and it is beginning to pay off, as the 6-foot-1, 200 pounder was invited to take part in the Pylon 7-on-7 National Tournament with Barton Football Four.
"It was an amazing experience," Hamilton said. "I learned a lot playing against some of the best high school players in the country. It was nice to have teammates I could trust, it allowed me to focus on my job.
"I remember last year when the tournament was happening I saw it on twitter and I made a goal for myself that I would go next year, and I did."
The rise has been fast for Hamilton, and the surface of his potential is just beginning to be scratched. With good speed and length, Hamilton is a tough matchup for receivers in one-on-one coverage, but projects best as a Safety, or maybe even as a Linebacker.
For now, Hamilton is focused on getting better for next season, and he started with setting goals.
"Next season I want to be an all area player," Hamilton noted. "I know I can be better than I was last year. When I watched my film this year I wasn't impressed. I played too hesitant, I looked soft.
"Going into this year I feel more relaxed and comfortable. I'm working to get to about 215 lbs this year. I really want to make what could be my last year my best."
With his quick rise, Hamilton's recruiting interest has been rather slow, but things will surely pick up as he makes the rounds during camp season.
We will keep you updated on Hamilton progress this offseason, as he works towards a big senior year.