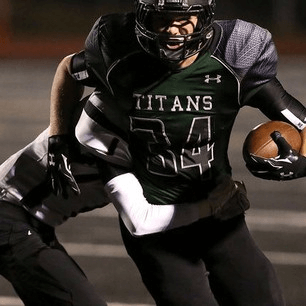 As expected in the last few weeks West Salem's Jacob Kizer has seen his stock skyrocket .The 6-5 235 pound TE/DE has added offers from Oregon St, Wyoming, and Eastern Washington thus far in March. His outstanding performance in Las Vegas, as part of BFA Oregon's 7 on 7 team, helped solidify expectations. Kizer has a rare combination of size and speed that could very well draw most of the Pac 12 to the table when referencing his recruiting.
Speaking on the offer from OSU he says, "I've followed the Beavers all of my life and am thrilled to have been offered by them". Adding, "They are close to home and have a new program which I'm excited about.
Jacob earned 1st team all state honors in 2014 from his D end spot, during the teams run to the state semi's. Head coach Shawn Stanley is one of the best in the business, producing some of Oregon's top talent over the years; Jordan Bishop & Jordan Jenkins (Oregon St) Cade Smith (Utah St) Brett Smith (Wyoming) Lochlin Deeks (Air Force) Matt Sommer & Keegan Hlad (Eastern Washington) to name a few.
When all is said and done Kizer could be the most recruited kid to ever come out of the Salem school. Current Titan coach and two time state champion (Roseburg) Mark Walsh, formerly an Oregon State Beaver says "Jake works extremely hard on and off the field and puts a lot of time into watching film, evaluating himself and getting better at what he does". He continued, "When truly evaluating college athletes a lot of it comes down to character and work ethic, where Jake stands out….You won't find a better personality to coach."
Expect to hear much more from the talented two way threat as the off season continues.