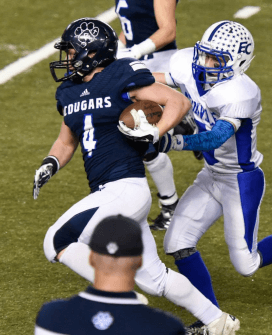 Great news out of the south end where Robert Terhune of Cascade Christian (Puyallup, Wash.) has signed to play for Jacksonville University in Florida.
"Jacksonville University first contacted me a couple of months ago," Terhune told NEI. "They needed to fill a running back spot and when they came across my highlight tape they knew I would be a great fit to their program."
The Dolphins are a member of the 11-team Pioneer Football League of the FCS, which spans nine states, including California, Illinois and New York. The Pioneer League is comprised of 10 Private schools, including Jacksonville University, which is well known for its Business Administration program.
"JU was the perfect choice for me," Terhune said. "Between the awesome football program and a great business program that ranks in the top ten percent in the world. Another bonus is that the weather is always great."
Terhune had been considering multiple options on the lower level, and it wasn't until recently that he had made his choice.
"I made my decision when they brought me down for a official visit," Terhune noted. "After meeting all the coaches and players I knew it was the place I wanted to be for the next four years."
This past season Terhune was First Team AP All-State member as a running back, and it is a crime that he wasn't also voted to that spot for his work at defensive back. He helped lead one of the most dominant 1A teams I can remember, and very easily could've been the 1A Player of the Year if it wasn't for his QB Jaelin Goldsmith taking that honor.
On the year, Terhune rushed for 1,743 yards and 21 touchdowns, while averaging nearly 9 yards a carry. Defensively he finished with 59 tackles, 4 INT's, 23 passes defended and 2 sacks. Terhune helped lead the Cougars to a 14-0 record and the 1A State Championship.
"I would like to thank my family, my coaches and my teammates for supporting me through everything, but most of all I want to thank God for presenting these opportunities to me," Terhune said.
We wish Terhune the best of luck in the Sunshine State, and will be sure to keep you updated on future news.