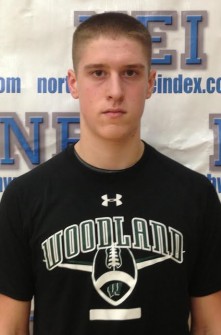 One of the top QBs in the Pacific Northwest for the 2018 class is Wyatt Harsh (6-0 165 18′) of 2A Woodland, Washington.
You would be hard pressed to find a kid more committed. Harsh had a phenomenal freshman campaign throwing for 1,994 yards and 24 TD's, while completing 62.7% of his passes. His play on the field sticks out, with a maturity and demeanor rarely seen at such a young age.
He has been able to train with two of the top quarterback coaches in the country (Taylor Barton & Alex Brink) for a number of years, which all the more helps explain his early success.
Referencing this past off season Wyatt says, "I haven't missed a chalk talk, regular session, or BFA elite session all winter and I am committed to reaching and exceeding my goals." Adding "My success as a freshman is a result of Taylor and Alex pushing me to get better."
Harsh is still young and will continue to develop. He helped the Beavers go (8-2) this past season, losing a first round thriller to traditional foe WF West 28-21.
Wyatt teamed with one of the nation's top freshman QB's in Jacob Sirmon (Bothell), leading the Barton Football underclassmen group in Las Vegas a few weeks back.
Referencing his performance and thoughts on the future BFA quarterback coach Alex Brink says, "Wyatt is the definition of a gamer.. His skills and leadership are evident in the way that he prepares, but he's at his best when the lights shine bright".
Adding, "He's going to be an exciting quarterback to watch as he continues to develop."