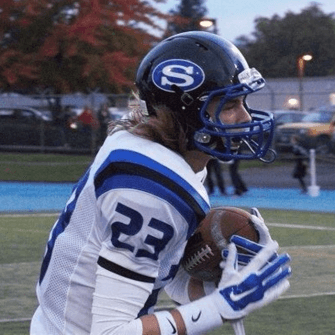 When all is said and done Chase Cota (6-3 185 WR 18′) of South Medford could be one of the best receivers to ever come out of the Northwest.
As a freshman he earned 2nd team all SWC accolades finishing tied for the conference lead in receiving TD's with 9. Cota caught 28 passes for 462 yards, averaging 16.5 yards per catch, while dominating kids 2-3 years older.
He was recently a standout as part of the BFA Underclassmen group that represented Oregon and Washington in Las Vegas. Chase is light years ahead of kids his own age and has the necessary size to be considered an elite level, nationally ranked talent.
As most know his father Chad is an 8 year NFL vet and one of the all time great Ducks. His cousin Brady Breeze of Central Catholic is currently committed to Oregon and ranked one of the nation's top 10 safeties. To say that the family gene pool is exceptional would be accurate.
Panther head coach Bill Singler has done a great job of developing his guys over the years, and waited no time in getting Chase reps. Both him and fellow freshman Kaleb Franklin (5-9 165 Slot/CB 18′), provide South with what will be one of the most dangerous 1-2 combo's in the West.
Much like his cousin Cota is an equally impressive kid off the field. Expect to see Chase's recruitment start early as he will be one of Oregon's top WR's next season.