Click for Ezra Cleveland Highlights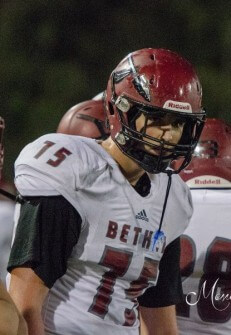 Great news from the SPSL South were Ezra Cleveland of Bethel (Spanaway, Wash.) High School has been offered by the United States Air Force Academy.
"I was on my way to a doctors appointment, when [Bethel] coach [Mark] Iddins called me and told me to call the Air Force football coach, they had some good news," Cleveland told NEI. "There is actually a ton of talent over at Bethel and its awesome we are getting recognized."
This is the first of what could be many offers for Cleveland, as he is hearing from schools across the country.
"I've received letters from UW, Boise State, Colorado State, Harvard, Yale, University of Oregon, University of Arizona, University of Idaho, University of Wyoming, and the Air Force," he said.
Cleveland stands 6-foot-6, 270 pounds, and is highly regarded for his work on both sides of the ball. Last season he was voted first team All-SPSL South at both spots, and even earned a second team All-Area mention from the Tacoma News Tribune for his work on offense.
This is an important offseason for Cleveland, as he looks to really put his name on the map. He visited the University of Washington for Junior Day, and has a few more planned before all is said and done.
"I plan on attending every camp I can," Cleveland noted. "As far as visits, I plan to visit Arizona, Oregon, and Boise State."
Cleveland is a true student/athlete, as he currently carries a 3.5 GPA, has also participated in wrestling and baseball, and has volunteered the last three years for the Special Olympics Track & Field.
Bethel made nice improvements under first-year head coach Mark Iddins, sneaking into the play-in round of state, before losing to eventual State-Champ Bothell, but that only fueled the fire of Cleveland and his teammates.
"I'm really excited about this coming football season," Cleveland said. "My team has been working hard in the weight room and in the classroom."
We will keep you updated on Cleveland and the Braves, as we move deeper into a big offseason.