Click for Kendal Yaegle Highlights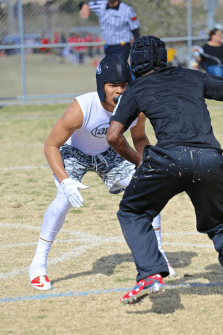 One of Washington's hardest hitting safeties is Kendal Yaegle of Central Kitsap (Silverdale) High School. Standing six-feet tall, and weighing 190 pounds, Yaegle has a solid frame, to go with good speed that really helps him bring the lumber.
Yaegle is quiet about his game, but quickly says, "I love contact."
Watching his highlight film, it is quickly evident how much he loves contact, as it shows one punishing hit after another.
Last season Yaegle was voted first team All-Narrows, first team All-Area and second team All-State. These accolades come with adversity, after Yaegle was injured during his sophomore season.
"I had to miss the whole year and I was so hungry for this last season," Yaegle said. "I need to find that hunger and drive again. Just stay in the weight room and stay motivated because the season is coming up fast. I know if I'm ready and hungry It'll be a good season."
Recently, Yaegle made the trip to Las Vegas with the Barton Football Academy for the Pylon 7-on-7 National Tournament, and didn't disappoint. He showed his versatility, playing anywhere from the Free Safety, to Rover, and even some linebacker, as he helped BFA Four to the Elite Eight of a 101 team tournament.
"Las Vegas was a great time and I loved the competition down there," Yaegle says. "All of the northwest teams performed and put the NW on the map. It was cool seeing the best players from across the country and competing with them and it was fun watching our team come together.
"The coaches were great and taught us a lot of new techniques, and mental parts of the game too and that will translate too this next season."
Right now, Yaegle is playing for the CK baseball team, where he was a second team All-Narrows member last season, but admits football is where he really wants to go.
"Football has been my favorite sports since I was little and I cannot wait until next season," Yaegle noted. "I want to see my team make a run in the playoffs since we have not won the first round play off game the last 3 years. Winning league would be awesome too since the last time our school won it was in 1998.
"Building a team chemistry and making it fun for the younger guys is also a goal of mine because they are the ones who are going to keep this program alive."
Recruiting has been slow thus far, but things are beginning to pick up. Yaegle is seeing local interest from Eastern Washington and Boise State, while Holy Cross has been showing significant interest from the East Coast.
Time will tell with Yaegle, but nobody can question his drive and desire to be one of the best this area has to offer.