Click for Connor Wedington Highlights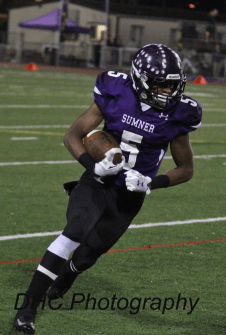 Washington's 2017 recruiting class is still young, but one of the top athletes is Connor Wedington of Sumner High School.
The 5-foot-11, 185 pounder has a tremendous work ethic, excelling both on and off the field. He currently sports a 3.8 GPA, and is coming off a first team All-SPSL sophomore season in which he rushed for 1,300 yards and 17 touchdowns.
"Being named first team all-league last year was a great feeling," Wedington told NEI. "All the hard work in the off-season definitely paid off, but the best part about it was the fact that my brother was also named to the first team as a WR.
"I really appreciate all that my teammates do for me and couldn't have had any success without my O-line and receivers blocking down field for me."
Wedington has the right mindset to improve on last year's numbers. He has been working hard in the weight room, and the track to increase his weight and speed, having already added 15 pounds this offseason.
"The remainder of my off-season is going to be busy," Wedington said. "I've got two more months of track, spring football starts shortly thereafter and then when school gets out I am hitting the college camp circuit hard, Barton combine, training and weight room every chance I get."
College coaches are really starting to catch wind of Wedington's success and future potential, as he is hearing from a number of schools, including Nebraska, Boise State, Wyoming, Idaho and multiple Big Sky Schools.
Wedington is one of the more humble athletes I have ever been around, so while he has started to really rise, his focus is still on his team and doing anything he can to help his team win, including playing defense this coming season.
"I will be playing CB this year on our Black Flag defense and I'm really excited about it," Wedington noted. "Coach [Keith] Ross is not only our head coach but our defensive coordinator as well and he expects a great deal out of his defense. If you've got the ball in your hands expect to get hit often and get hit hard by the Black Flag."
While the Spartans lose a strong senior class to graduation, they return quality talent in key positions, like Josh Riley (RB/OLB), Sky Sandretzky (S/QB) and Jack McDonald (MLB). Sumner still has high expectations and goals for the coming season. Wedington also mentions Kolby Nikolaisen ('16 OLB) and Ben Wilson ('18 MLB), as players to keep an eye on next season.
"Team goals for next season are to win the SPSL 3A title and make a serious run deep into the playoffs," Wedington said. "Last year Bellevue put the hurt on us in the first round and we aren't happy about it. We have something to prove this year and I'm confident that we have a team that can do big things this season."
We will be sure to keep you updated on Wedington's progress, as he still has two exciting seasons ahead of him.