The talk of the tournament on day 1 was the Barton Football Underclassmen group, which beat two legit teams out of California and Arizona to start pool play.
Kids stepped up on each side of the ball, with Jacob Sirmon and Wyatt Harsh dropping dimes and Jason Rucker picking off every pass in sight. The (4-2) overall finish came after two close losses, in games that could have gone either way.
The young guys represented and will have a chance to make a run next year, much like the Oregon and Washington teams did this season. Have a look at the athletes..
Jacob Sirmon 18′ Bothell (WA)
Simply put Sirmon is the real deal. He projects as one of the top quarterbacks in the country for the 2018 class, possessing many intangibles that you can't teach. His physicality, mindset, and overall presence are something rarely seen on any athlete so young. It is not a stretch to say he may be one of the most recruited kids to ever come out of Washington.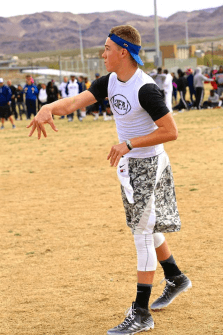 Chase Cota 18′ South Medford (OR)
One of the top receivers in the country for the 2018 class. The combination of Chase and one of the nation's top freshman QB's in Sirmon was unique, as both will be heavily recruited on a national level. Cota had an outstanding tournament using his 6-3 185 pound frame to go up and out maneuver DB's 2-3 years older.
Trey Davis 17′ Central Catholic (OR)
Trey has maybe the most sure hands of any receiver in the Northwest. He did not a drop a ball thrown his way. His multiple TD's on day 1 helped the underclassmen group go (2-1) during pool play, as you can expect Davis to be one of Oregon's breakout players next season.
Jason Rucker 17′ Westview (OR)
If we were giving out overall MVP's Rucker would sit at the top of the list. His 6 INT's in 5 games were the most of any athlete to represent BFA in Vegas, covering the last five years. Rucker set the tone during the teams first wins, with 3 clutch interceptions. He will be one of Oregon's top safeties for the 2017 class.
Tre Weed 18′ Bonney Lake (WA)
One of the most impressive players on any BFA team that traveled. Tre projects as one of the top freshman in Washington, scoring multiple TD's over the weekend. His breakout performance makes him one of the more intriguing athletes to watch moving forward.
Jaydin Proctor 18′ David Douglas (OR)
Proctor is long and very athletic and will be one of the region's top receivers for the 2018 class. You can expect Jaydin to be a Mt Hood conference player of the candidate in the coming seasons, as his play on day one gave everyone a glimpse of the future.
Demetrious Douglas 17′ Jesuit (OR)
Douglas is a lock down corner, with NFL genes, that will be considered one of the top DB's in the Northwest next year. His dominance during the tournament puts him on a different level moving into 2015. Demetrious has a stock that continues to skyrocket as you will hear his name often during the coming seasons.
Darreon Moore 17′ Kamiakin (WA)
Moore returned to Vegas for his 2nd season as part of the BFA group. He will be a featured skill kid and one of the top overall athletes in Eastern Washington, earning 1st team all league honors from his corner spot. He is also one of the most dangerous return men in WA.
Connor Wedington 17′ Sumner (WA)
Wedington is just a player. He is fast, physical, and will be one of the Northwest's top RB's for the 2017 class. His play during the tourney helped back up his very impressive 1000+ yard, double digit TD season. Expect to see Connor featured on the camp circuit this year.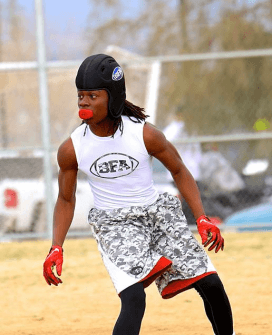 Wyatt Harsh 18′ Woodland (WA)
The first team all league QB through darts on day 1, before getting sick and missing day 2. Harsh had an incredibly impressive pool play round hitting multiple receivers for touchdowns, and showing that unique leadership which puts him in a special category when referencing top quarterback's.
Joe Nelson 17′ Issaquah (WA)
Expect to hear a lot about this kid in the coming years. The 6-3 WR will be one of WA's top wide outs, covering the next two seasons. He is long, very athletic, and comes from a football family. We will see Nelson be a featured Kingco athlete next year.
Jerrel Chapman 18′ Tahoma (WA)
You will hear a lot about this kid in the near future. Chapman brings good size and overall athleticism to the table, and will be one of the top young athletes in the conference. Expect to see him be a leader for a talented Tahoma group
Keante Mcmurrin 17′ West Salem (OR)
The kid out of West is just flat out tough. He is the guy that never takes a play off and everyone wants to be playing with. Mcmurrin will be a dual threat kid for Shawn Stanley's Titans and continue to capitalize on every opportunity that he is given.
Robert Mason 18′ Graham Kapowsin (WA)
Mason is versatile and incredibly shifty. He will be a featured skill kid for what should be a very talented GK group in the coming seasons. Robert is a dual threat kid that will rarely come off the field.
Bennett Dondoyano 17′ Lakeside (WA)
Casey Selfridge has done a phenomenal job with the Lakeside group, finishing (6-4) in 2014. Dondoyano did a little of everything with the BFA group and his HS team, finishing his sophomore year with 3 TD's, 500 all purpose yards and 40+ tackles.
Conner Morris 17′ Newberg (OR)
Morris did a great job all winter after an all TRL season for the Tigers. Conner did work from his DB spot during the tournament after being featured from the running back position during the year. Expect big things from him in 2015.
Jake Moore 18′ Kentwood (WA)
The 6-0 freshman back will be one of Kentwood's best and a potential conference player of the year candidate in the coming seasons. You can expect to see much more of him at BFA events.
Zander Bailey 17′ Lakeside (WA)
Bailey accounted for 40 tackles this past season, as he is a talented athlete with size. He can play on either side of the ball and played a primary role for the young guys. Expect him and Dondoyano to lead next year.