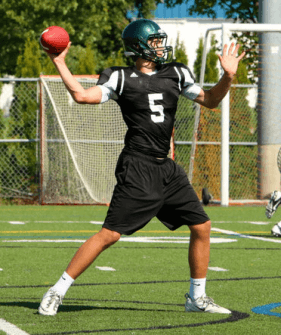 As spring recruiting picks up one of the region's top quarterbacks, Justin Herbert (6-6 210 16′) of Sheldon HS (Eugene OR), has just been offered by Big Sky Northern Arizona.
This could be the first of many for the talented three sport athlete as you can't teach his overall size and athleticism. In 2 1/2 short games last year before injury Herbert accounted for 10 TD's and 0 INT's on 64.5% passing.
Justin is a three sport kid and one of the top overall athletes in the region. He started as a sophomore in both the 6A baseball and basketball state title games. Referencing the offer from NAU over the weekend Herbert says, "I visited there this morning and met with all the coaches". Adding, "They have some great talent down there and I'm looking forward to hearing more from them."
Northern Arizona has recently obtained the services of former Oregon HS great and Arizona State WR Aaron Pflugrad. He is now the head wide receiver coach at NAU after coaching at ASU last season. This was a big hire for the Lumberjacks as Pflugrad is a players coach and a phenomenal recruiter.
That said as Herbert will draw significant interest from a host of mid major and Pac 12 type programs. As most know his brother Mitch led the state in receiving in 2013 and started as a freshman at Montana St. Add to this his father Mark is a former D1 athlete, with his grandfather playing ball for the Ducks, and the genes are on his side.
We will bring you updates on the standout from Eugene as his recruitment is just beginning.